This article will go over the chat features which can be located on your dashboard under the Channel and Interactivity settings.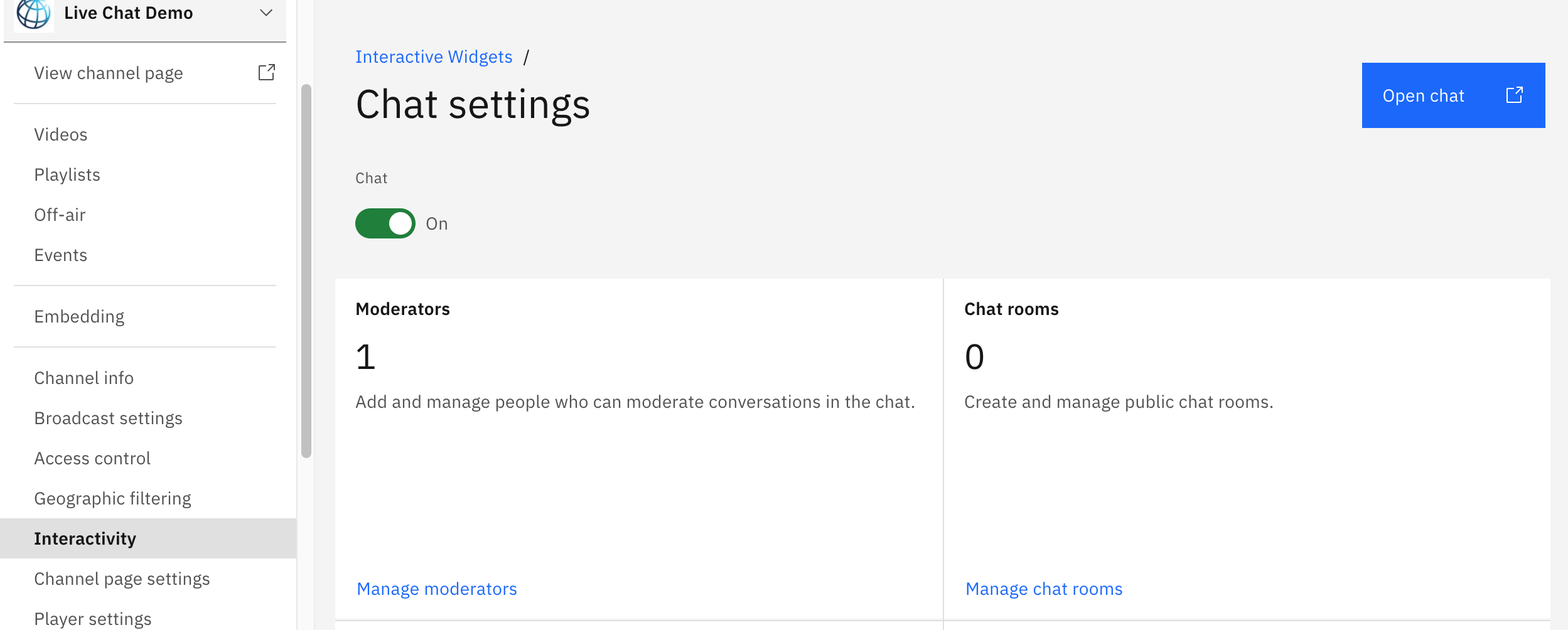 Moderators

How to add a Moderator
-Moderators can be added under Channel> Interactivity > Chat settings> Moderators.

-For Enteprise and Video Streaming accounts that have organizations, moderators can be added with their email addresses that have IBMids that have been given Channel admin access.

-If one does not want to grant Channel admin rights in the Org settings to a moderator, then this potential moderator must create an IBMid and a Free trial account.
-For SILVER, GOLD and PLATINUM accounts, please have new chat mods create an IBMid and Free trial account. 

Once the IBMid is added to the Chat settings as a Moderator and the New Moderator logs into their Free trial or Organization, provide them with the channel url of the channel they are allowed to moderate.




-For Email Addresses that need an IBMid Please click here and "Create IBMid". Or if you Forgot your PW click "Forgot IBMid"
Chat moderators will have the ability to set the chat in Slow Mode, Pause Mode, or clear the chat.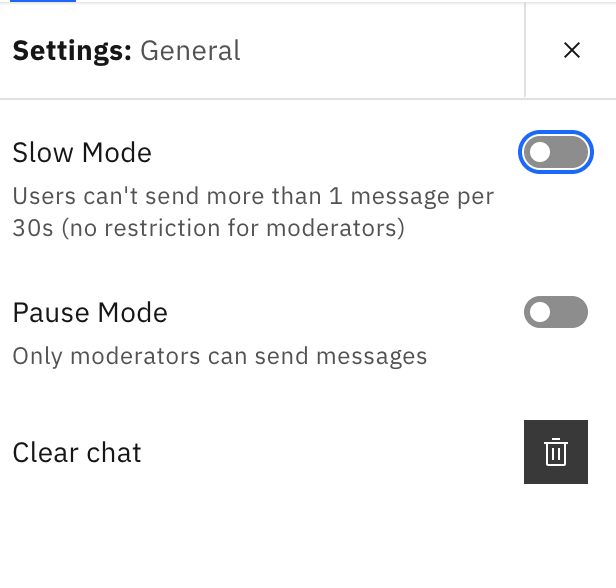 -Moderators have a full control over the messages sent by viewers and have the ability to delete messages, 24h / permanently ban or unban a viewer from chat. Moderators also have the ability to pin important chats to the top of the conversation.

-Moderators and viewers also may reply with emojis or reply in threads.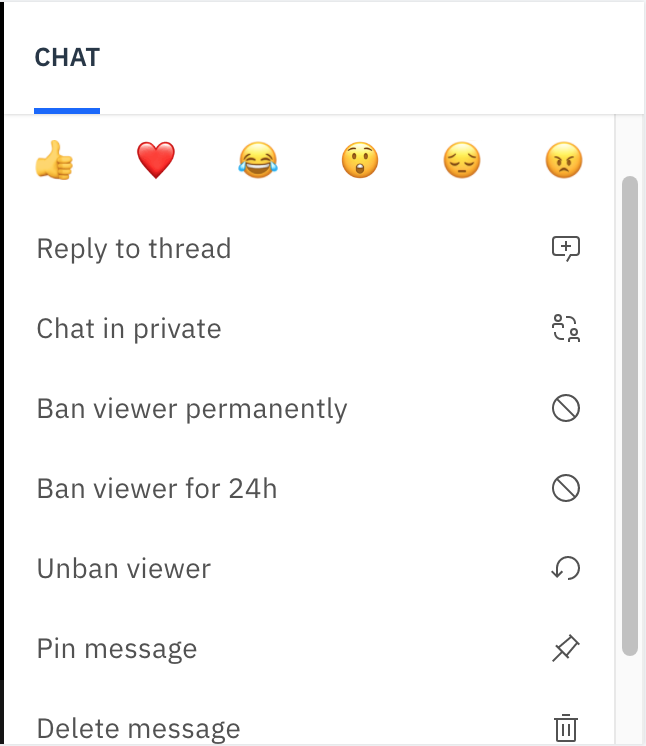 Please be sure to have "Reactions" and "Threads" turned ON in your Dashboard's chat settings under Interactivity if you wish to have these features in your chat room.


NOTE:  There is currently a limitation of 100 chat moderators per channel.  Adding moderators over the 100 moderator limit will result in the new moderators not having moderator privileges. 
Chat Rooms 

Chat rooms (group chats) allow viewers to talk about specific topics in a smaller, more focused environment.
–Multiple chat groups can be created by a broadcaster on the dashboard


–Any viewer is able to join a chat room and switch between them.

Files/ Images in chat
–Viewers are able to upload images
–Viewers are able to upload files


–These features can be disabled by moderators from the Chat settings from the Dashboard.
Nicknames
Upon your viewers' first visit to the chat, they will be prompted to enter a nickname.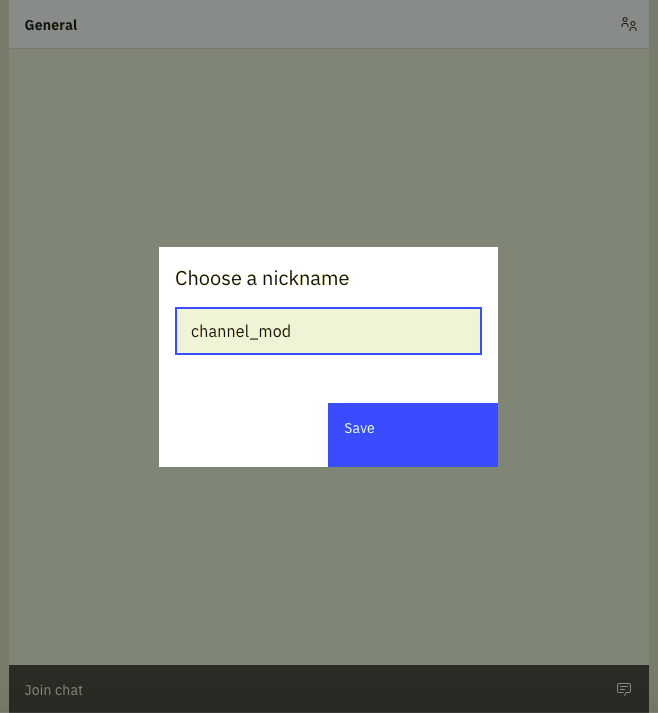 To change your nickname, hover over the current nickname and click on the 3 dots on the right.

Click "Edit your nickname" and replace with a new nickname.
Hit Save.
The new username will be displayed.
Chat Logs/Export
Under Interactivity, click on Settings next to Chat:
Click on Manage chat exports: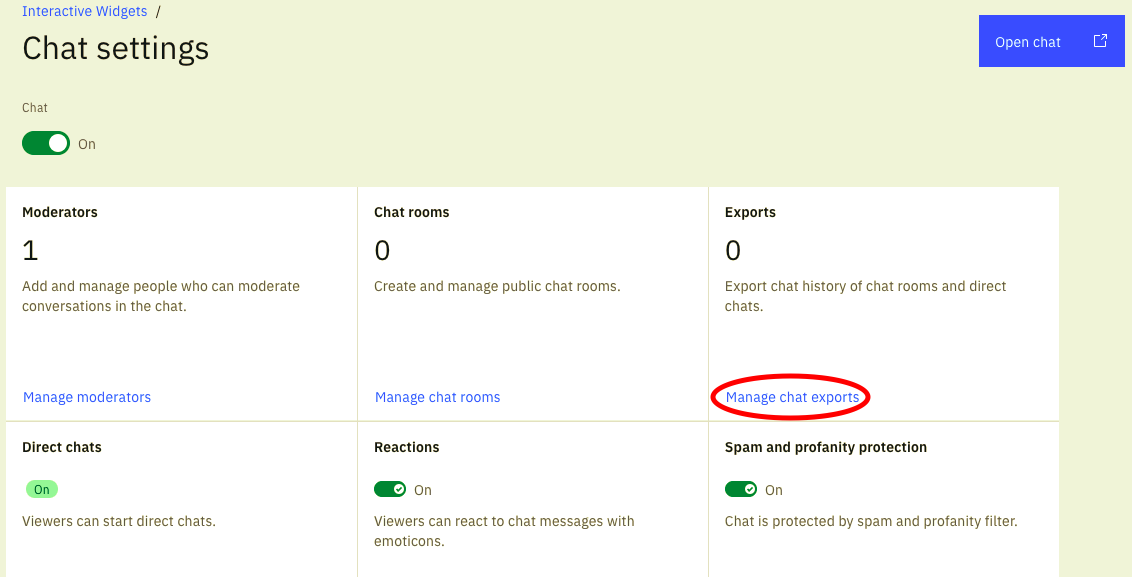 Then click Export chat data:
From here, you can choose between Excel and JSON:
NOTE: The new chat's features (chatrooms, threads, links, emojis and comments) produce a complex data set. For exports, the best format is .json, while the xls export formats  may result in loss of this information.


Exported chat data will expire in 24 hours, but you can always regenerate the data again if needed.
NOTE: Only the following information is available via Excel:
Message Type: Message or Reply
Name
Message Text
Created At
Reactions (nr)
Message ID
Parent ID
Chat rooms and direct chats are exported in separate tabs.
Embed
Under Embedding, click on Create Embed next to the type of embed you'd like to configure:
You can also select the type of embed from this drop down menu:
Each embed type has features that you can enable/disable.  For example with Combined Embeds, you have Player, Interactivity, and Videos options to choose from:
Color customizations such as Dark mode or assigning hex color codes for text and links can be found under the Interactivity section of the embed.



(Please note that unfortunately Color customizations is not available for the Q/A tab at the moment)
You can preview the settings and options you've selected:
Once you are satisfied with the preview, copy the embed code on the bottom left and paste into your website.  Remember to re-copy this code each time you make any adjustments.
Default Settings
Turning chat on will set the following settings on/off by default.  Please make sure to check these settings when turning on chat for your channel. 
Enterprise Video Streaming
- Direct chats: OFF

- Reactions: ON
- Spam and profanity protection: ON
- Threads: ON
- File and image upload: ON
Video Streaming 
- Direct chats: OFF
- Reactions: ON
- Spam and profanity protection: ON
- Threads: ON
- File and image upload: OFF (For security reasons, due to unknown audience)