Starting September 2022, all IBM Video Streaming new plans must be purchased from an IBM sales person or IBM business partner and are no longer available as self-serve plans on the IBM Marketplace. This includes Silver, Gold and Platinum plans. Existing customers may continue to renew regularly on the IBM Marketplace. Please contact us for assistance.
In this article we introduce how to manage subscription plan and access subscription details, invoices in our new system.
IBM Marketplace
To open IBM Marketplace please go to your IBM Video Streaming Dashboard by choosing menu Account / Subscription, and click on MyIBM dashboard link.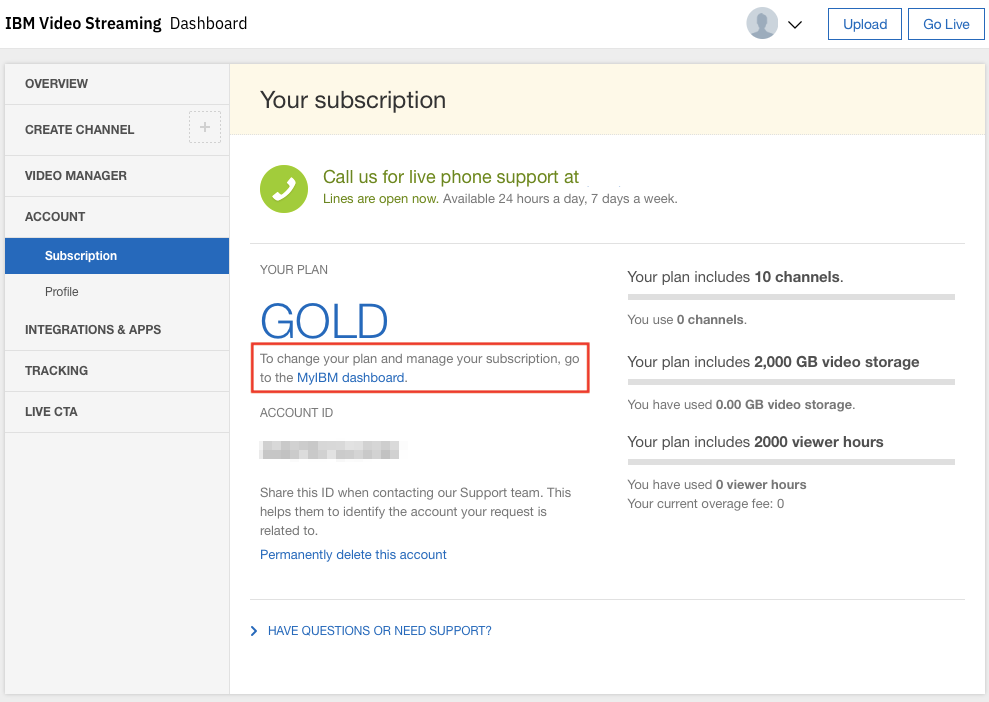 You will reach MyIBM Dashboard (authenticating with your MyIBM ID may be required) showing the details of your IBM Video Streaming subscription:
Billing and invoices
To check the details of your subscription and invoices click on My IBM link on the top left of the page then go to the Billing page:
Step 1: My IBM page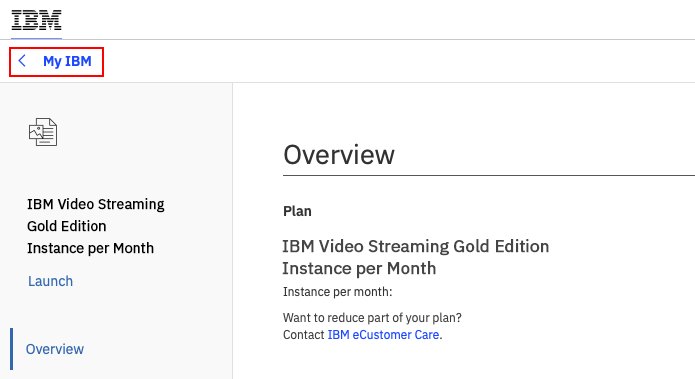 Step 2: Billing page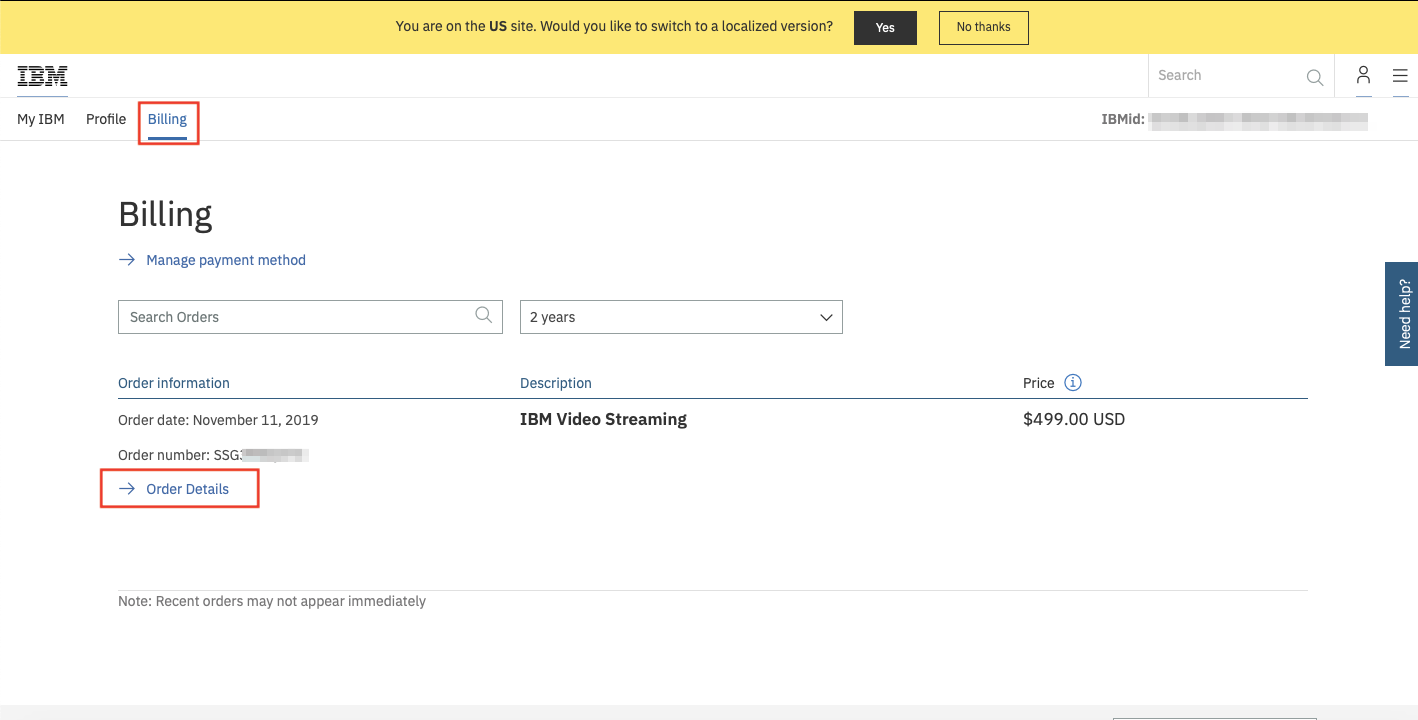 On the Billing page you get an overview of your order, and you can check further details of your IBM Video Streaming subscription on the Order page:
Step 3: Order page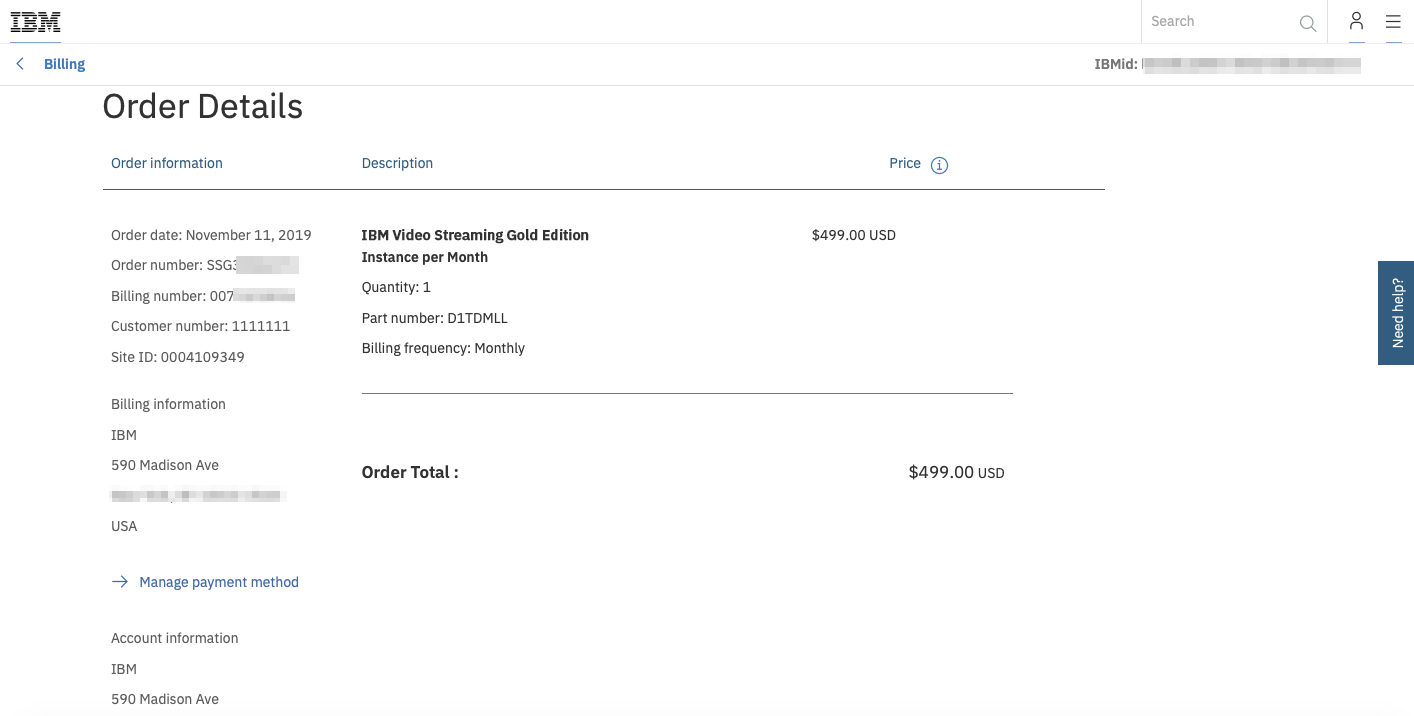 Please scroll down through the page to access your previous invoices: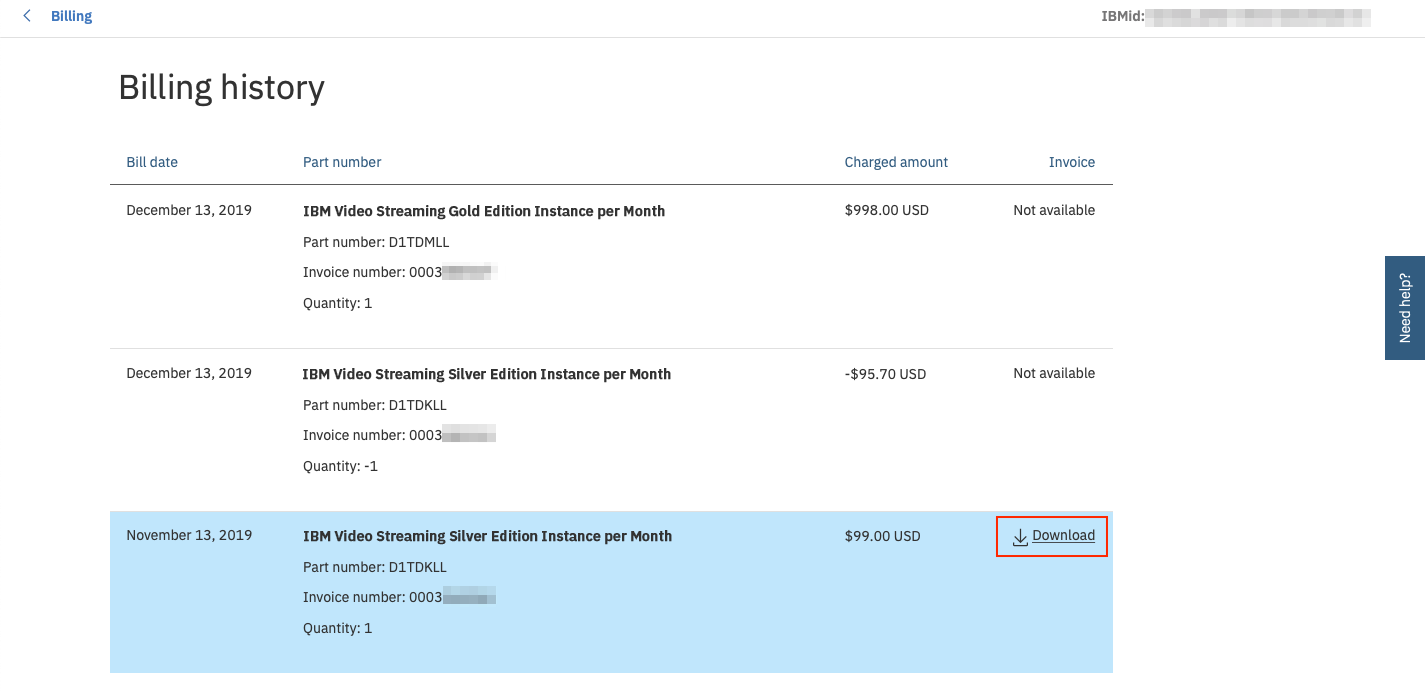 Please note: IBM Marketplace provides downloadable invoices after a processing time.
*You can also access your invoices directly from the IBM Invoices tool. Go to https://www.ibm.com/support/customer/invoices/ and log in with your IBMid.
Managing Subscription: change plan or cancel
To manage your subscription please click on the MyIBM link on the top left of the page, then select Manage: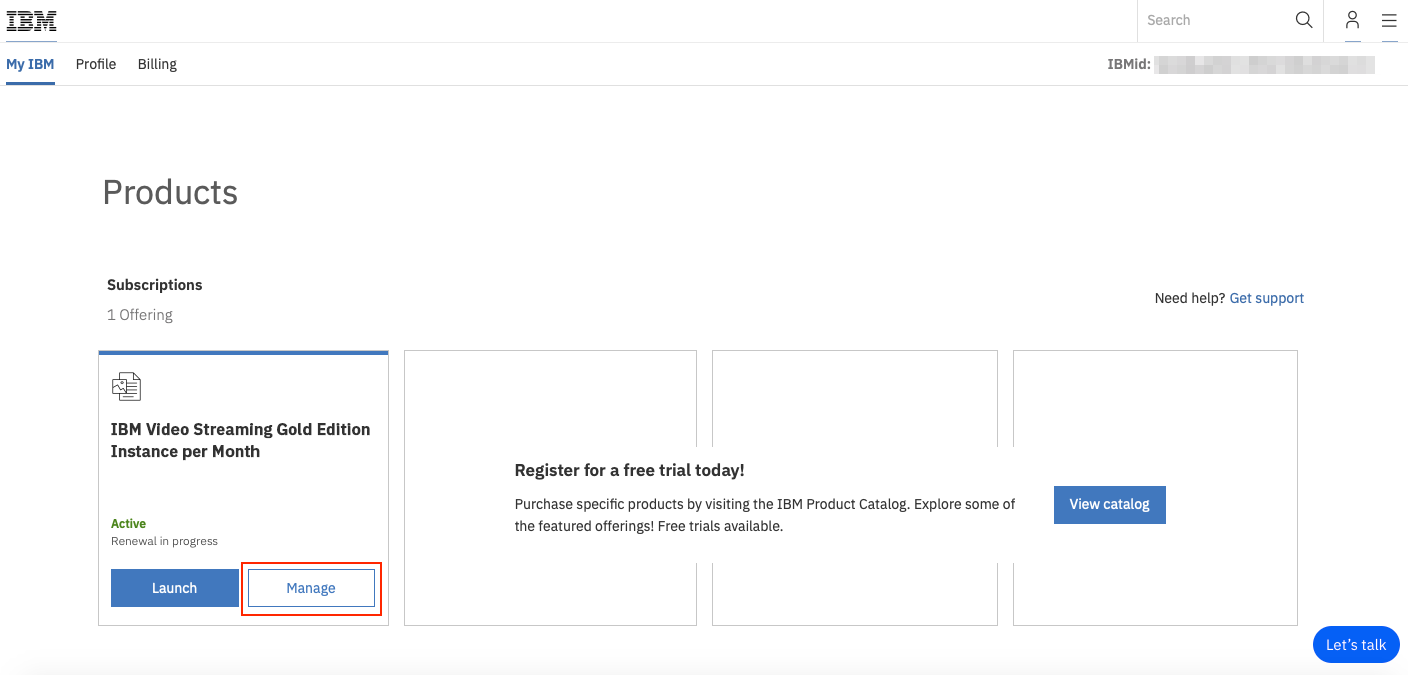 You will reach IBM Marketplace Overview page giving access to several actions, like:
Switch plan
Reach out to IBM eCustomer Care with Billing and invoices related requests
Cancel plan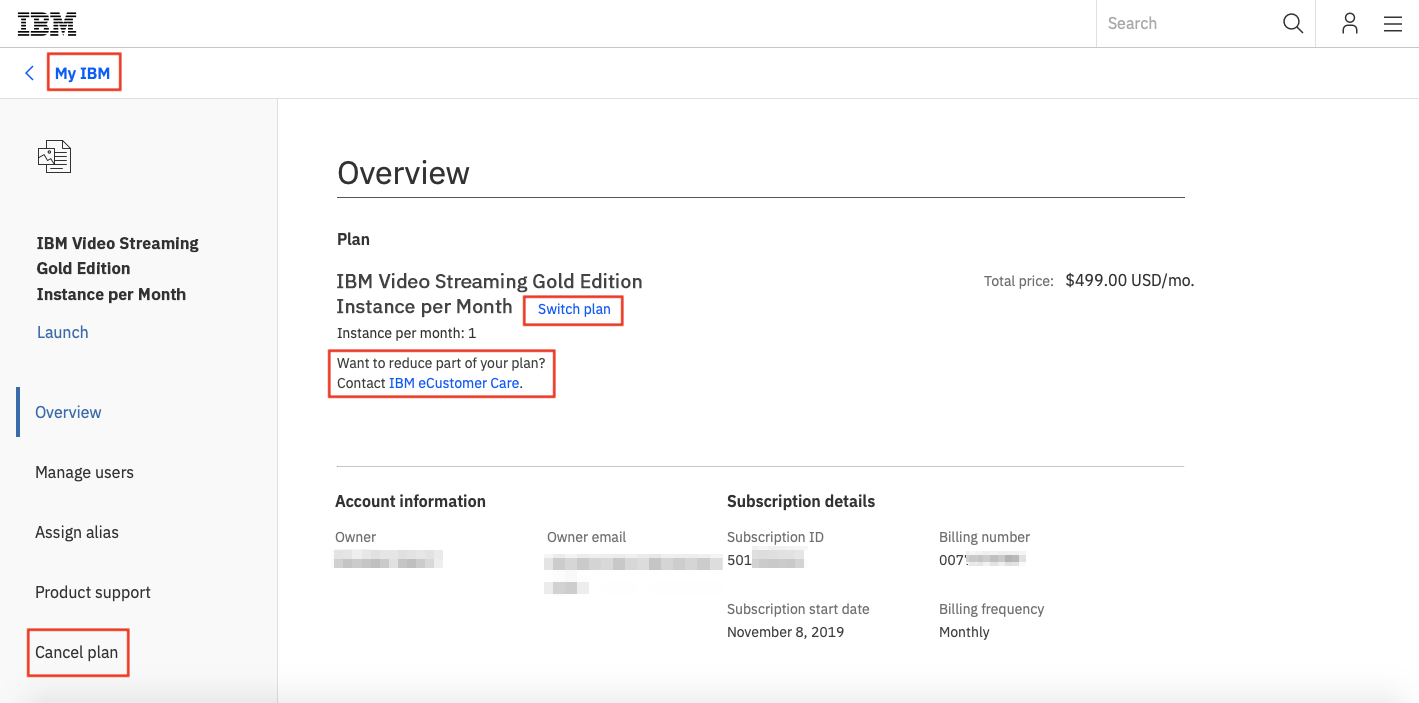 Support
Getting stuck with billing and invoices? You can reach IBM Marketplace's customer support team via Marketplace Support page.