IBM releases regular updates for ECDN. For all of our users it is essential to keep all servers on the latest production versions. Besides continuously releasing new features, IBM provides regular fixes including security patches. Therefore, regular ECDN updates contribute to the overall security of your IT environment.
There are two ways to upgrade ECDN servers. The preferred option is to use the built-in Maintenance Window function under Software updates for ECDN servers. This is an easy-to-use tool to automate all upgrades. 
Methods to upgrade ECDN servers are:
Automated upgrades by specifying a Maintenance Window - recommended
Manual upgrade via reinstall
Please, note that if you decide to use Manual upgrade via reinstall option on an ECDN server instance that had an attached Cache Disk then, you will lose all cached VOD content on this disk.
1.   Automated upgrades by specifying a Maintenance Window
This is the recommended way to keep your ECDN servers updated. All your existing configuration settings including the secondary VOD cache disk contents will be preserved.
Settings for Maintenance Window can be reached in the ECDN portal via the Servers -> Software updates menu item.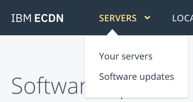 Alternatively, whenever a new release is published, the portal also displays an alert banner with the link to the Software updates page.
On this page you will be able to set up your maintenance window under Your maintenance window section. In the Available software updates section, you can also find version numbers of all existing servers and other relevant details.
To set the maintenance window, you need to enter:
Occurrence – This can be Daily, Weekly or Not set. For the weekly option, you will need to additionally specify the day of the week. To disable automated upgrades, select Not set.
Start time – Time of day when the upgrade will start. The upgrade will complete within an hour of the start time.
Timezone – Timezone for the start time.

Notes:
This maintenance window time setting is an account-wide setting. All ECDN server instances in your account, regardless of location, will be upgraded at the specified time.
Only ECDN servers running version 2.3.1 or later can be updated via this method.
2.   Manual upgrade via reinstall
You can also update ECDN servers by deleting the older VM and reinstalling by using the latest virtual appliance image. You do not have to delete the server definition in the ECDN cloud. The latest virtual appliance image can be downloaded from the SUPPORT & DOWNLOADS page in ECDN portal (https://ecdn.deepcaching.com/support.html).
Note with the reinstall, if enabled, you will lose the VOD cache disk contents. For this reinstall, you will need to download the virtual cd configuration file from the ECDN portal.
The reinstall steps are:
Download the Virtual appliance image for your hypervisor from the SUPPORT & DOWNLOADS page in the portal.


Download the virtual CD configuration file for each server.

Go to Server page
Click on Change Configuration
Press Next until you reach Configure server




Select Download virtual CD configuration file for your hypervisor.


Then press Generate button to download the file.
In your hypervisor console, shut down the ECDN server VM instance and delete it.


Create new ECDN server VM instance using the hypervisor image and virtual CD configuration file. For more information on this see the Getting started with ECDN (https://support.video.ibm.com/hc/en-us/articles/115005182769-Getting-started-with-ECDN) support article.
Note, you may also start afresh for these manual upgrades. You can delete the ECDN server definition in the ECDN portal, and create a new entry. You will need to re-specify any custom parameters such as local DNS servers and NTP server again. In this case, you don't need to download the old virtual CD configuration file, because a it will be generated again for the new definition.