IBM CV Streaming Manager Dashboard
Ad Manager Integration
You can easily connect your Google Ad Manager account (formerly Doubleclick For Publishers) to the IBM Cloud Video Player and start serving ads on Live and VOD content right away.
All you need is to provide the Google Publisher Tag from Ad Manager on the IBM CV  Dashboard for the channel and placement you would like to monetize with video ads.
In case you are new to how Google Ad Manager works or you have no experience with Pre-, and Mid-roll advertising, please read through the guide to help start up your video monetization. If you have experience working with Ad Manager we still recommend that you browse through this material, as it enables certain ad campaign targeting features.
The guide consists of two main parts,
The first part provides a tour on how to set up ads, content-level targeting and how to generate a Publisher Tag in Google Ad Manager
and a quick and easy guide to how you can add these Tags to your channels and videos in SM without any assistance or waiting time
 Part 1 Quick Guide to Google Ad Manager – setting up ads to be used with IBM Cloud Video
Google Ad Manager (formerly known as DoubleClick for Publishers or DFP) is one of the most popular and best known ad servers. Its main features are freely available through the Small Business edition and require only a Google Account for setting up.
Due to its popularity among our clients, IBM Cloud Video chose to integrate Ad Manager through its Streaming Manager Dashboard as a Plug-and-Play service, allowing our users to monetize their content with ads through this service.
If you are an advertising professional or have used DFP before much of this information will not be new, but it's recommended that you read through the document as some sections contain setup requirements specific to this integration. (Such as the key value that will signal the content ID on IBM Cloud Video).
If you are new to using Google Ad Manager, we will guide you through the setup process step by step.
Before you begin with the setup
In case you do not yet have a Google Ad Manager account,
you can apply for one here https://admanager.google.com/home/
Once you have logged into Google Ad Manager, you will be able to create or set up ads – ether of your own or from advertisers – following this guide.
Please note that Google has an extensive Help section devoted to Ad Manager, which can provide assistance for features and issues you may encounter. Google Ad Manager is not an IBM product, nor is affiliated with IBM, thus any technical questions you may have regarding its use you should direct at Google customer service at
https://support.google.com/admanager/?hl
IBM Cloud Video provides this guide to integrating the 3rd party software Google Ad Manager as-is, and can not guarantee that features of Google Ad Manager will remain the same or that they remain accessible to their users.
Generating Publisher Tags (ad tags) with Google Ad Manager (DFP) - Ad Unit and Line Item setup


To connect Google Ad Manager to IBM CV you will need to generate and copy/paste an Publisher Tag(s) also known as 'ad tags' to your Streaming Manager Dashboard. These URLs will be the link between the two systems. Once in place, you will be able to use Google Ad Manager to decide what ads to run on your IBM CV content, with no need to log into SM.
To get this Publisher Tag URL, you'll need to create an Ad Unit first in Google Ad Manager, which will be the identifier of the ad space you're selling spots on. If you already have an Ad Unit set up in Google Ad Manager, it is still strongly advised you read this section at least once and check your Ad Unit against the guide provided here.
 Step 1.1 - Creating an Ad Unit in Google Ad Manager
In Google Ad Manager navigate to Inventory Menu – Ad Units – Ad Units tab – New Ad Unit – Current Level. You will be able to create a new (or modify an old) Ad Unit here. Please see the guidelines on filling out the form below
Code – This is the special ID used in the Ad Tag. It can be up to 100 characters long. Important to note, it can't be changed after saving the Ad Unit (We recommend using a short compound word relevant to the placement and avoid using any special characters)
g. ibmliveprerolls
Name – This will be displayed in Google Ad Manager when listing Ad Units or assigning to a Placement (We recommend to use the same name as you will for the Placement, see next chapter)
g. IBM Live Pre-rolls
Description – Notes for yourself on where the Unit will be used
g. Pre-roll ads shown before Live streams on IBM Cloud Video
Size – Video (VAST) Sizes – Use default size (640x480)
Target window/Reward – Settings are inherited from the Network settings
Placements – It's recommended that you skip this part for now. (Step 2 (1.1.2.) will be discussing creating Placements)
Ad Unit Frequency Cap – only add labeling rules if you want to apply creative-level frequency caps across specific inventories. If you don't know what this means you can skip this part.
Refresh – check No refresh when using with Streaming Manager
Click Save


Recommended Ad Unit setup – For every type of ad spot your advertisers might want to buy exclusively into, or those you would like to have unique performance reports on, create a separate Ad Unit (and Placement, see 1.2.) This will allow you to have an advertiser's ads be running only on their choice of Placement type without the need to modify your setup. A recommended setup is using 4 Ad Units with 4 unique Placements each, Live Pre-roll, VOD Pre-roll, Live Mid-roll, VOD Mid-roll'. Alternatively, you can go with only one Ad Unit and one Placement if you do not need separate targeting or performance reports.
Note - you will be able to target to specific content using the same Ad Units, you don't need a unique Ad Unit/Placement for every channel.
Step 1.2 - Create a Placement
Placements organize Ad Units into ad-targeting labels. For the purpose of integrating to the Streaming Manager Dashboard, it's recommended to create at least one Placement unique to each Ad Unit. Afterwards you can create Placements that combine Ad Units to make ad targeting easier, e.g. if you have separate Ad Units for Live and VOD, also for Pre-rolls and Mid-rolls, you can add Placements that group these together, such as 'Mid-rolls', 'LIVE' or 'All IBM CV Placements'.
In order to create a Placement to be used with your Ad Units follow these steps.

In Google Ad Manager navigate to Placements, and click the New Placement button. (Going to be used at Line Items for Targeting)
Name – For ease of use, you can provide the same as the Ad Unit name
Description – Notes for yourself, which will be visible during setting up ad campaigns, and choosing where they should run.
Pick the matching Ad Unit (created in 1.1.1.) from the Assigned Inventory List (The one with the same name)
Click Save

Step 1.3 – Create Key Values for Targeting ads to Specific Channel IDs

(for targeting ads to Channel IDs)
This is an Important step if you would like to target ads to specific channels on your IBM CV SM account. With this you will be able to use the same Ad Unit and Ad Placement across multiple IBM Cloud Video channels, and optionally specify which Channel ID certain ads should or shouldn't run on. This will work in combination with the Ad Units/Placements you created earlier, saving a lot of time and administration when managing ads.
In Google Ad Manager navigate to Inventory menu – Key values, choose New key


Name – "ibmvid" (this is not an example, please use this exact string)
Display Name – This will be shown when using for targeting. It's recommended to name it IBM CV Channel ID or similar.
Values type – choose this option – 'Users will enter targeting values when creating line items or checking inventory'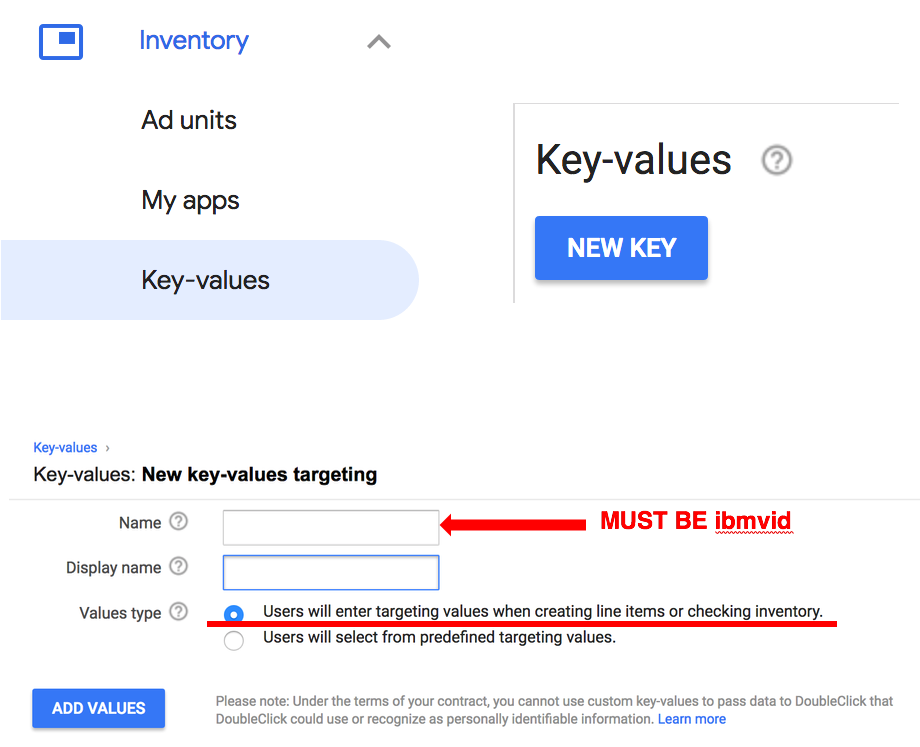 Step 1.4 - Generate Publisher Tags (ad tags)
Publisher tags are the URLs you'll need to copy and paste from Google Ad Manager into the IBM CV Streaming Manager Dashboard. This is the step that allows the connection between your video player and your ad inventory in Ad Manager.
In Google Ad Manager navigate to Inventory Tab – Ad Units – Ad Units tab, select the created Ad Unit, then click the Generate Tags button (top right)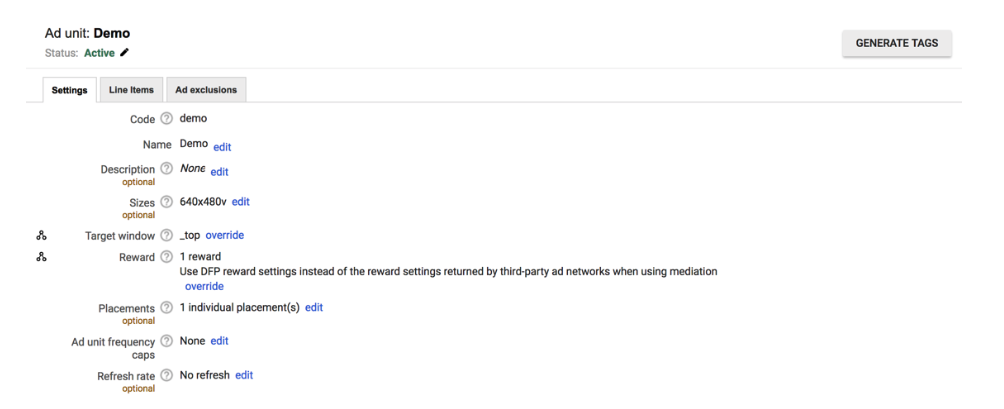 Under Select Tag Type choose Google Publisher Tag for Video – Continue

Under Select Tag Options choose the following options
Enable for live traffic – check
Player SDK type – Google IMA SDK - Then click Continue
Under Additional Tag Parameters
Page Level Targeting – Please omit when generating tags, only parameters added through Streaming Manager will be used. You can define these on the IBM CV SM Dashboard for each channel, using Custom META tags.
Inventory unit sizes – Use default 640x480
Description URL – Omit when generating tags, it will be populated by IBM
Companion sizes – Omit when using with Streaming Manager, companion banners are currently not supported.
Minimum ad duration – in milliseconds, optional, omit to allow highest fill rate
Maximum ad duration – in milliseconds, optional, omit to allow highest fill rate
Disable Ad Fallback – recommended to omit, using it will disable ad waterfall / failover (if you disable Ad Fallback, when multiple ads match your targeting criteria and the first one fails, no more attempts will be made and no ad will play)
Content targeting – Optional, Streaming Manager will be passing Channel ID through the custom key 'ibmvid'. Please make sure to add ibmvid as a free-value custom key value to use it to target to content id. ( see step 1.3. )
Child-directed – by default the settings is 'No'
Limit to non-personalized ads – if you don't supply information default will be 'No'. If you are delivering ads to viewers into the EEA (where GDPR applies) it is recommended to use a tag that by default uses non-personalized ads.
Click Continue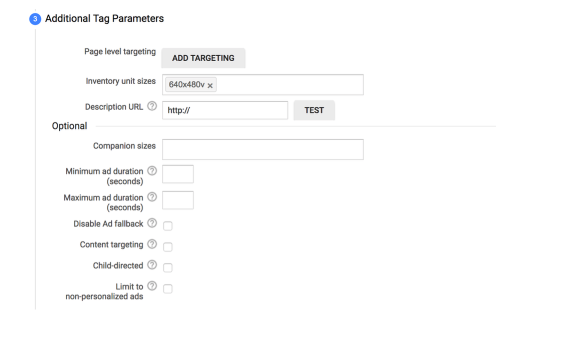 Tag Results
Highlight and copy the URL, you have now generated a Publisher Tag
Please paste this URL into the corresponding text field in the IBM CV Streaming Manager Dashboard when creating a new ad (see part 2.)
Note – your tag will connect IBM Streaming Manager to Google Ad Manager, but in order for the video player to actually start displaying ads, you will need to set up ads to run. See additional help on this from chapter 1.5.

Generated Publisher Tag Example:
 https://pubads.g.doubleclick.net/gampad/live/ads?iu=/01234567/example&description_url=[placeholder]&env=vp&impl=s&correlator=&tfcd=0&npa=0&gdfp_req=1&output=vast&sz=640x480&unviewed_position_start=1
Step 1.5 - Creating ads – the Order and Line Item

(campaign and ad)
In Google Ad Manager navigate to Delivery Menu – Orders
Note that every Line Item (individual ad) is sorted under an Order (ad campaign)
In case you do not have an Ad Order set up yet, you will need to create one.
Click New Order
Name – This will be the display name for the Order in Ad Manager.
Advertiser – This field is mostly for reporting and administrative purposes. Choose the correct advertiser from the list, or create a new label as needed.
Trafficker – An administrative / user access setting, it will be your Ad Manager user by default, you do not need to edit it unless you have a multi-layered Ad Operations team.
Labels – Optional, for administrative and reporting purposes you can tag your Orders with labels.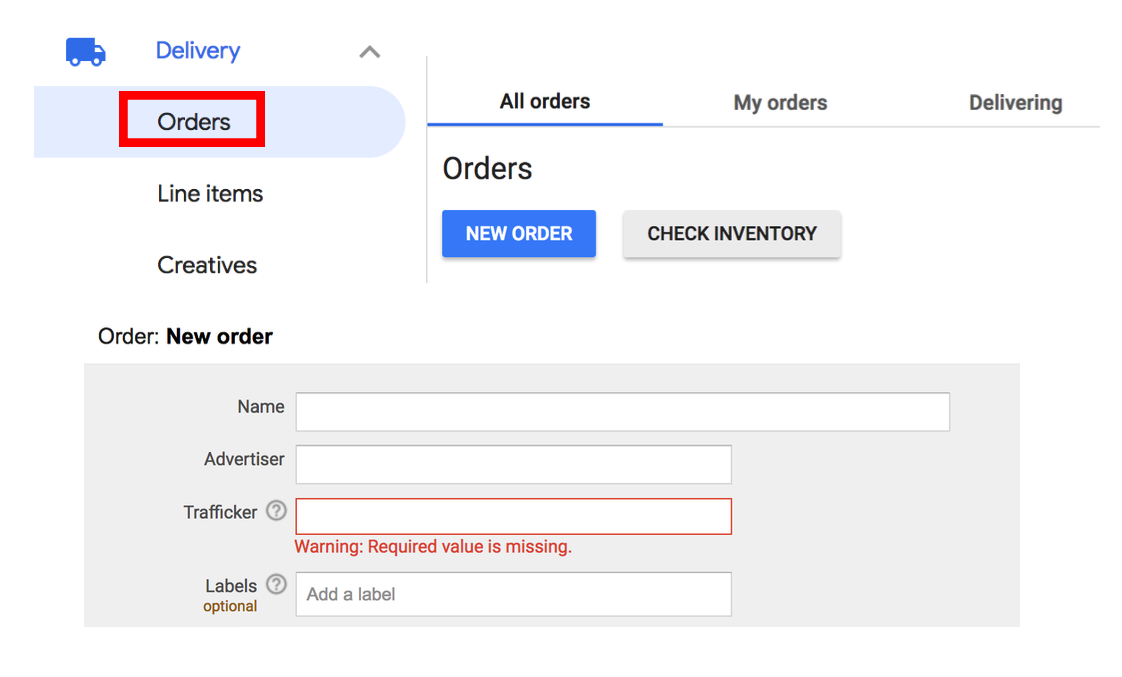 Next step, navigate in Google Ad Manager to the delivery menu – Orders – (Select the Order you created in the previous step) – click New Line Item
Name – The Display name in Ad Manager for the Ad.
Inventory sizes – choose the Video VAST option, 640x480
Labels - Optional, for administrative and reporting purposes you can tag your Line Items with labels
Allow same advertiser exception – Not used for IBM CV Video Ads
Comments – Optional, comments will be visible only in Ad Manager
Max duration – optional, leave it as 0 in case you don't know how long the ad clips will be or if they can vary. (Most ads are between 5 to set for 30 seconds) – This data is only used for forecasting inventory

You can learn more about these features in Google Ad Manager Help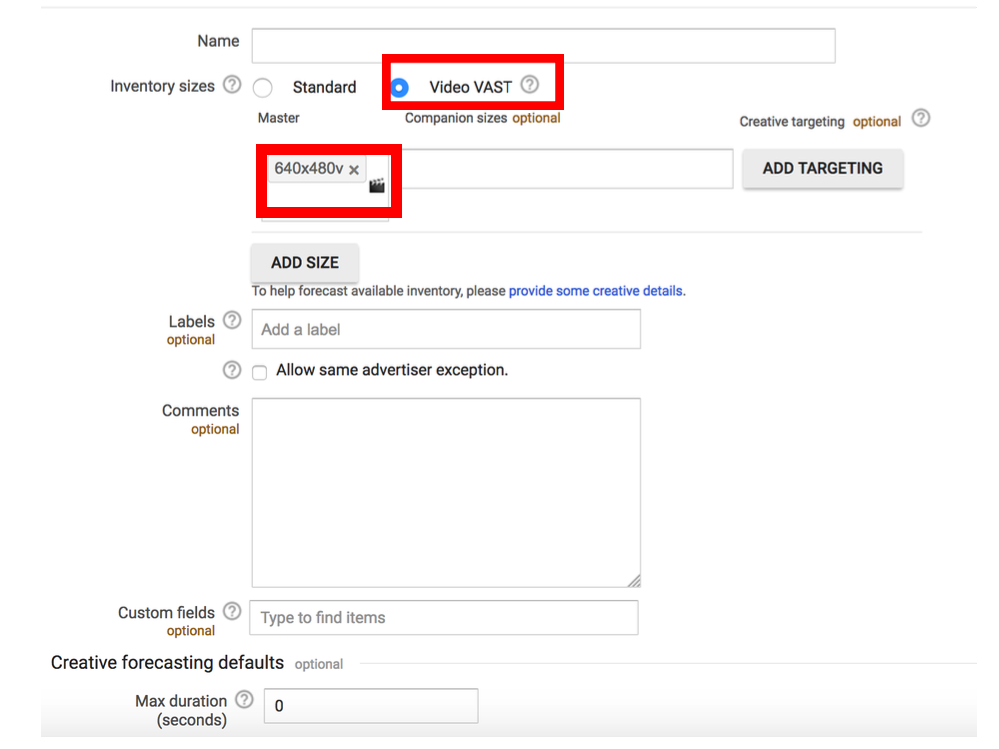 Under Settings:

Type: This list will offer a lot of options. You can learn more about them in Google Ad Manager Help. For a quick guide please refer to the below list

Standard – You can set the relative priority of ads running on the same inventory manually by entering a number (16 – the lowest, 1 – the highest priority). It is a very straightforward option you can use with any kind of ad you wish to run.
Price Priority – CPM Optimized – Ads will get priority over one another based on how much they can potentially earn you in 1,000 runs (CPM means earnings per 1,000 displays). Use this in case you are optimizing for yield management, such as AdX or other networks
House – lowest priority, ads will fill in the free ad spaces.

Start time – The ad will only begin running on your videos once the start time and date is met. You can also set it to 'immediate'. You can time campaign launch dates with this feature.
End time – Ads will stop being sent to the video player once the Line Item has reached its set 'end time'. Depending on the type of ad you chose, you may be required to set an End time.
Type specific settings (these only apply if you chose the corresponding ad type)

Price Priority

Limit: The amount of impressions for a set period.

Standard

Quantity: The number of total impressions the Ad can run.

Sponsorship/House

Goal: the percentage the Ad should get of the total (or in case of house ads, remaining) available ad space.

Rate – set for CPM (cost-per-thousand impressions) – Default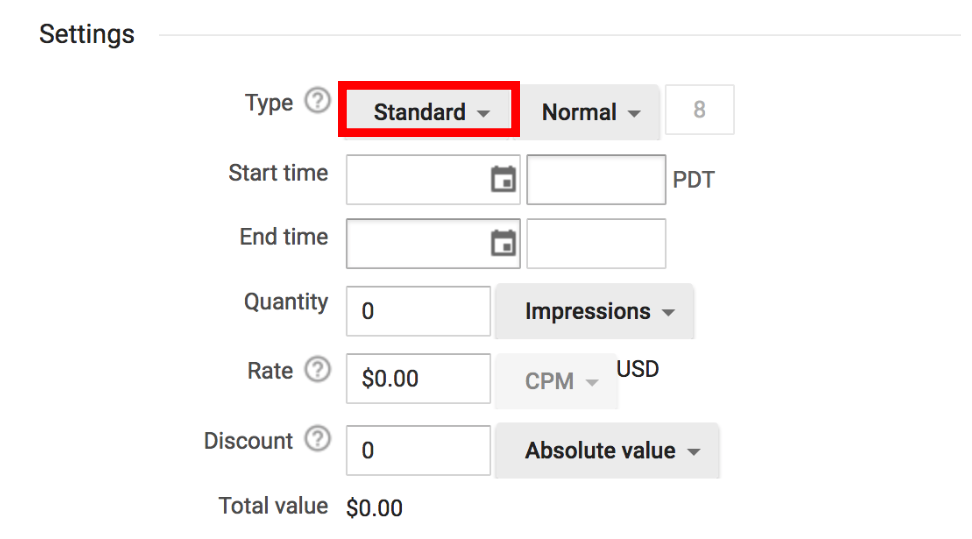 Adjust Delivery – Optional choices advertisers may request you to set for their campaigns, which can alter the running frequency and pace of their ads.

Deliver Impression

Frontloaded – Campaign will deliver more ads in the first half of its run time, and less in the second.
Evenly – Tries to deliver impression equally over the course of the campaign.
As fast as possible – delivers the ad whenever it matches criteria.

Frequency – You can set how many times the Ad can show for a viewer in set minutes/hours/days/weeks/months or during the whole campaign.
Limit EEA serving - If you have the necessary user consent for meeting your duties under Google's EU User Consent Policy – Choose Don't Limit serving. This option can be used with SM.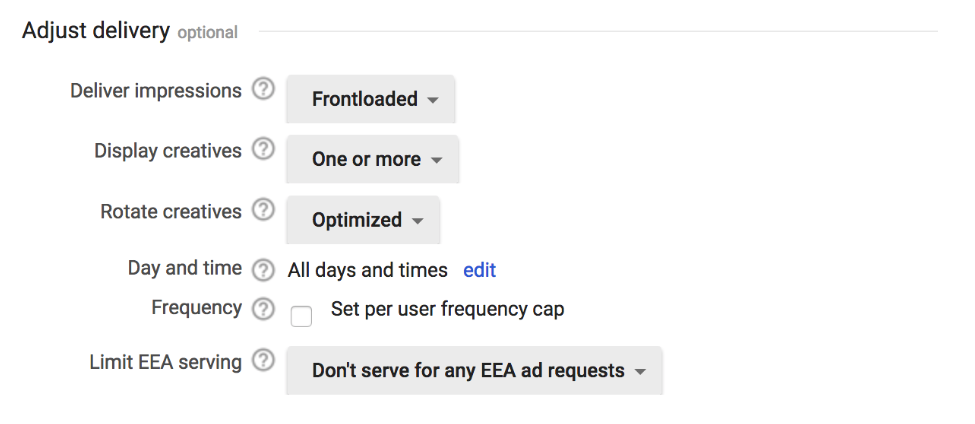 Add Targeting – you can (and most of the time should) limit ad delivery based on circumstances on the viewer's end. These include options to check what content the viewers are watching, where they are watching from, what device they use to view the videos, and so on.


By default, ads are set 'Run of Network' – meaning they will be displayed on every video you manage through Ad manager – This setting should be removed when using a more limited / custom targeting.

Inventory – Placement – Select the Placement(s) you created for your IBM SM inventory for the ad to run (or not run) on. (See 1.2.)
Key value – To target specific videos, you can use the key 'ibmvid' to set the IBM CV channel's ID you want the ad to run on. You can specify multiple IDs as well, or use this key to exclude IDs instead.
Geography – Include/Exclude the list of locations where the Ad should/shouldn't run.
Devices – Include/Exclude the list of browsers/devices where the Ad should/shouldn't run.
In case you are creating a new Line Item, you are recommended to proceed to adding a Creative.
Click the button 'Save and…' and choose 'Upload creatives' at the bottom of the form. 
Step 1.6 - Adding Creative to the Line Item
Creatives are information on the actual ads (the video clips, or a 3rd party Ad Tag that has the location of these clips) which will be displayed in your IBM CV Player. Here you will let Ad Manager know where to access these clips.
If you have just finished setting up your Line Item (not yet saved, see 1.5) click the button 'Save and…' and choose 'Upload creatives'
 Otherwise in Google Ad Manager navigate to Delivery – Line Items – choose the Line Item you want to add Creatives to, and click 'Add creatives' (new if you don't have already completed the Creative addition process)
Select a creative set type

Video – 1st party served (Choose this in case you have a video file uploaded to the internet which you want to play as an Ad)
Redirect – 3rd party served (Choose this if your advertiser provided you with an Ad Tag, a URL that will connect to their ad server to download information on ads)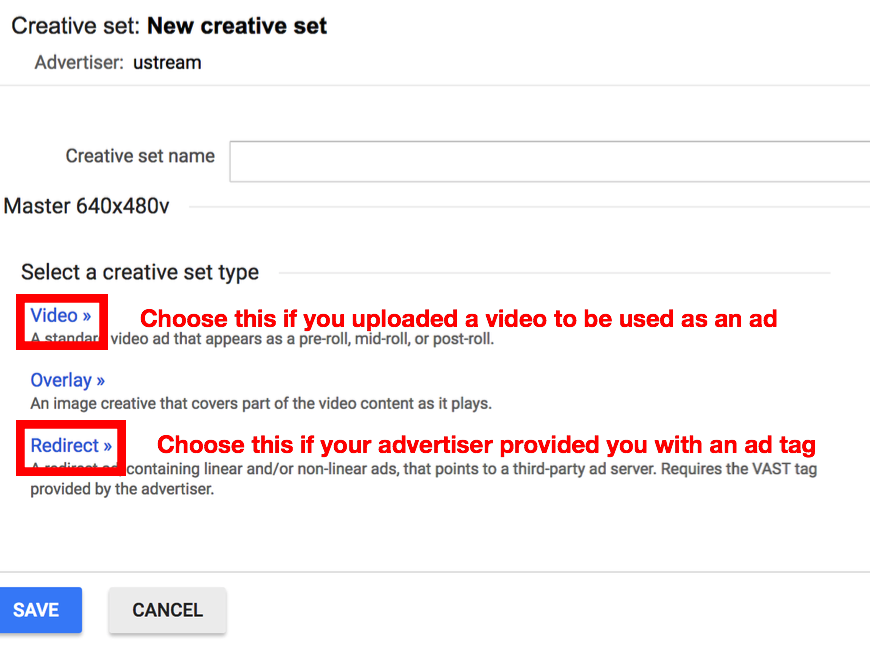 For the choice 'Video' – where you have a video clip used as an ad
Name – A display name for the Creative, visible only in Ad Manager. It's recommended to keep close to the Line Item name for ease of administration
Click-through URL – landing page URL – this is where viewers are taken when they interact with the advertisement (in a new browser tab or window)
Hosting – DFP-hosted (upload your video clip below)
Externally hosted (Copy/paste the URL for the video clip to use)
Make sure to only use secure-hosted videos (https://)
Duration (seconds) – Optional, Ad Manager will auto-detect it
Skippable Video – Recommended, will add a SKIP button to the ad after 5 seconds of playback. Users expect to see this button for ads over 5-15s
Labels – for administrative, reporting purposes you can tag your Creatives
Custom parameters – it's recommended you omit this part
SSL Compatible – Only use URLs (for hosted video clips) on secure hosts (https). Ad Manager will also detect if the asset is or isn't on a secure server. Note, if your video is not secure, your viewers will see a warning or an error message!
If you opt for Ad Manager to host the clip, don't forget to add it
Click Save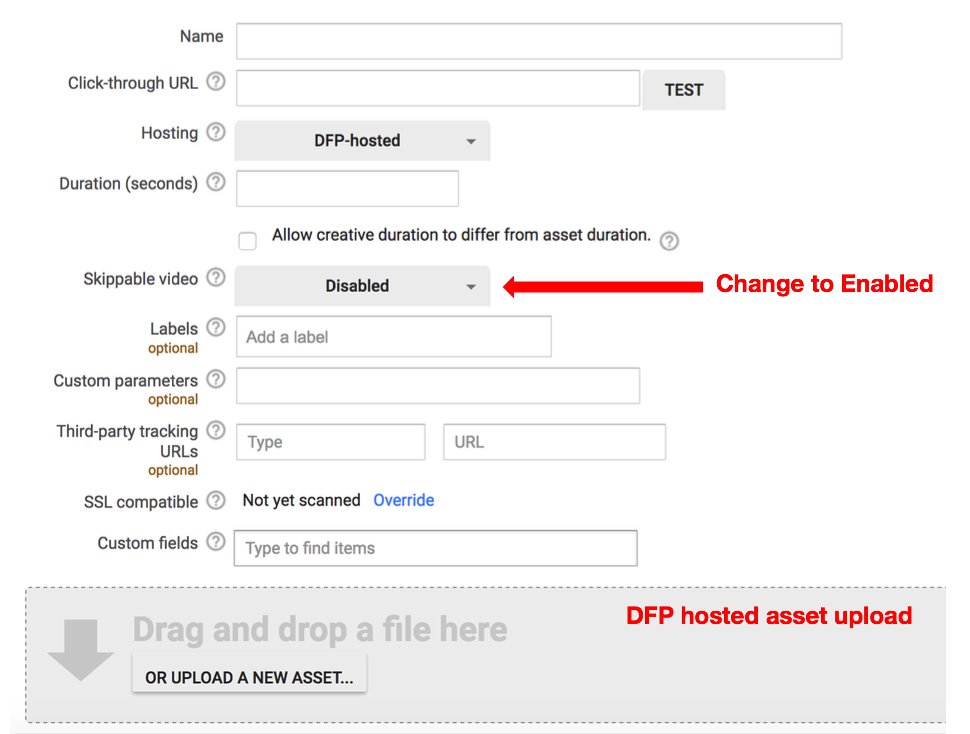 For the choice 'Redirect' – where you use a 3rd party ad tag
Redirect type – choose 'Video'
Name - A display name for the Creative, visible only in Ad Manager. It's recommended to keep close to the Line Item name for ease of administration
VAST tag URL – Paste the 3rd party provided Ad tag here
Duration (seconds) – does not get detected automatically in this case, should be added manually – If you don't know the typical length, use 30 to 60s
Skippable tracking – only check for skippable Ad reporting purposes
Labels – for administrative, reporting purposes you can tag your Creatives
Third-party tracking URLs – Optionally your advertiser might support these, though using a 3rd party VAST tag usually eliminates the need of tracking URLs
SSL compatible – Only use 3rd party ad tag URLs that are secure (https). Ad Manager will also detect if the asset is or isn't on a secure server. Note, if the ad tag is not secure, your viewers will see a warning or an error message!
Custom fields - Optional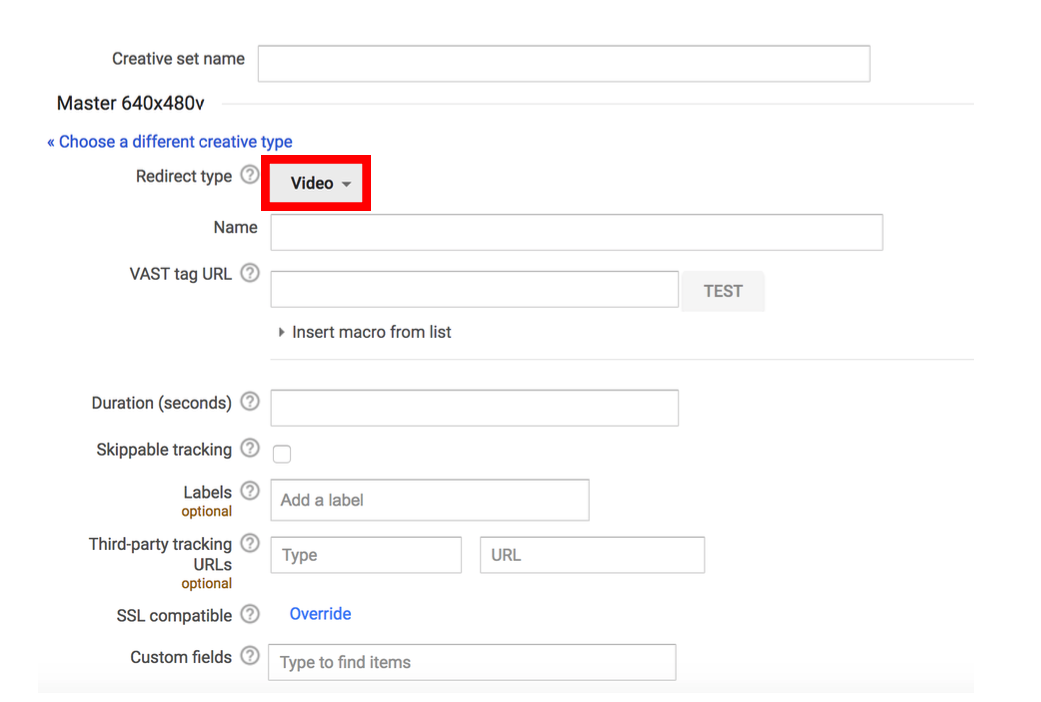 Step 1.7 Modifying Line Items
Note for changing settings on a Line Item later on – you will need to first Pause the line item, apply changes, save the line item, then resume. Otherwise your changes won't be saved.

Step 1.8 Test Your Publisher Tag
You should use Google Video Suit Inspector to test your Publisher Tag
https://developers.google.com/interactive-media-ads/docs/sdks/html5/vastinspector
Paste the Publisher Tag into the text field, set the Input type to VAST tag and click TEST AD
Important note - Not seeing any ads may be due to targeting limitations you set (e.g. Geographic location or IBM CV content ID targeting – see 1.7.), the timing of the campaigns (start and end dates – see 1.7.) or limitations set on the Advertiser's end in case of a 3rd party Ad Tag (see 1.8.). However, if you confirmed there are no limitations to the ads you set and still don't see one, check if you are using the correct Publisher Tag.
Before contacting IBM support with any problems regarding ad delivery, always make sure to test your tag and check Google Ad Manager help to resolve the issue.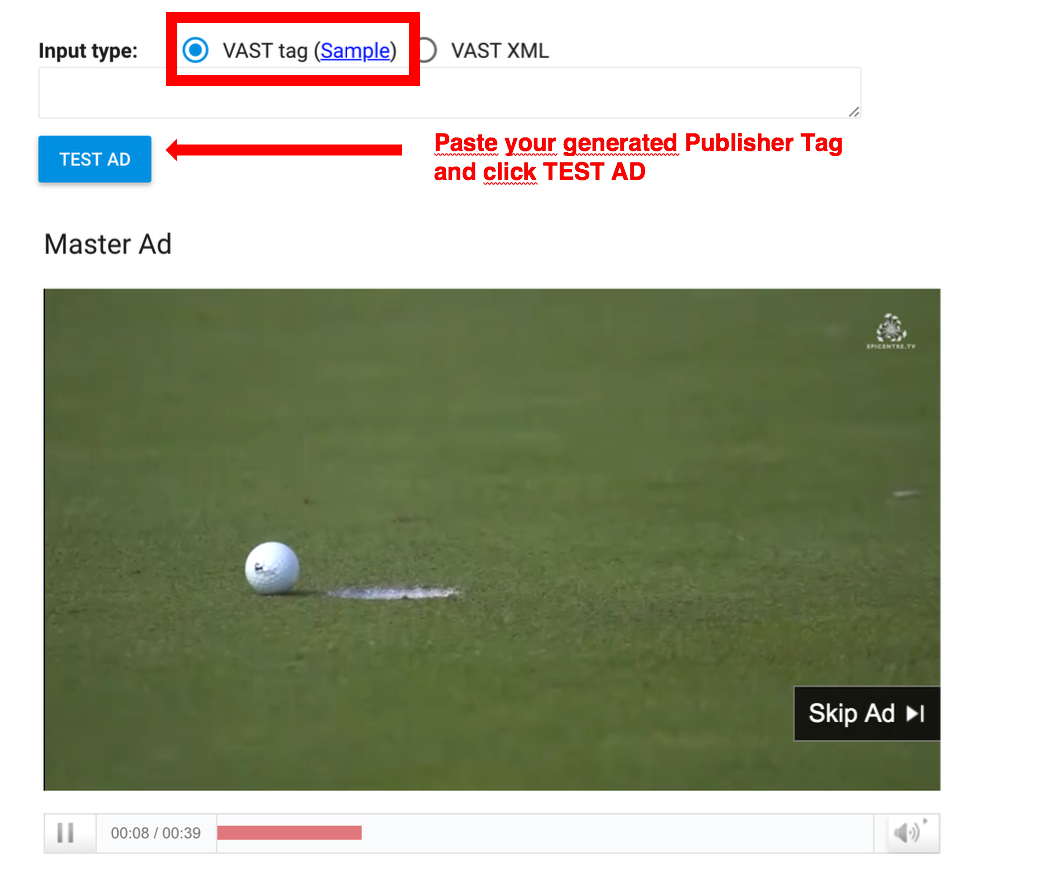 Step 1.9 Ads.txt
– important for embedded players
Some advertisers might prevent ads from being displayed on unverified domains. Such systems or companies might require you to include a verification code in an ads.txt file hosted on the domain that embeds your stream. If your stream is embedded on example.com than you will have to have a file located at example.com/ads.txt that contains this verification line.
You may found a guide about ads.txt here: https://iabtechlab.com/ads-txt/
Part 2 Guide to IBM Cloud Video Streaming Manager Ad Integration
Consult this guide on how to add a Google Publisher Tag from Google Ad Manager (formerly DFP) to your Streaming Manager content. This enables you to set up and control video ads in the Cloud Video Player both for Live streams and VOD.
See chapter I. on how to create a Google Publisher Tag and set up ad inventory in Google Ad Manager. It is also recommended you do this if you already have experience with Ad manager and have a Publisher Tag ready, some of the features of the integration will not be available otherwise.
2.1. Set up your Ad – SM Ad Manager integration dashboard tool
On your IBM CV SM Dashboard navigate to Channels, choose the channel where you wish to integrate ads, and choose the Ad Integration menu item
On the right-side of the page click Add your first ad tag (or +Add ad tag on top right if you already have tags set up)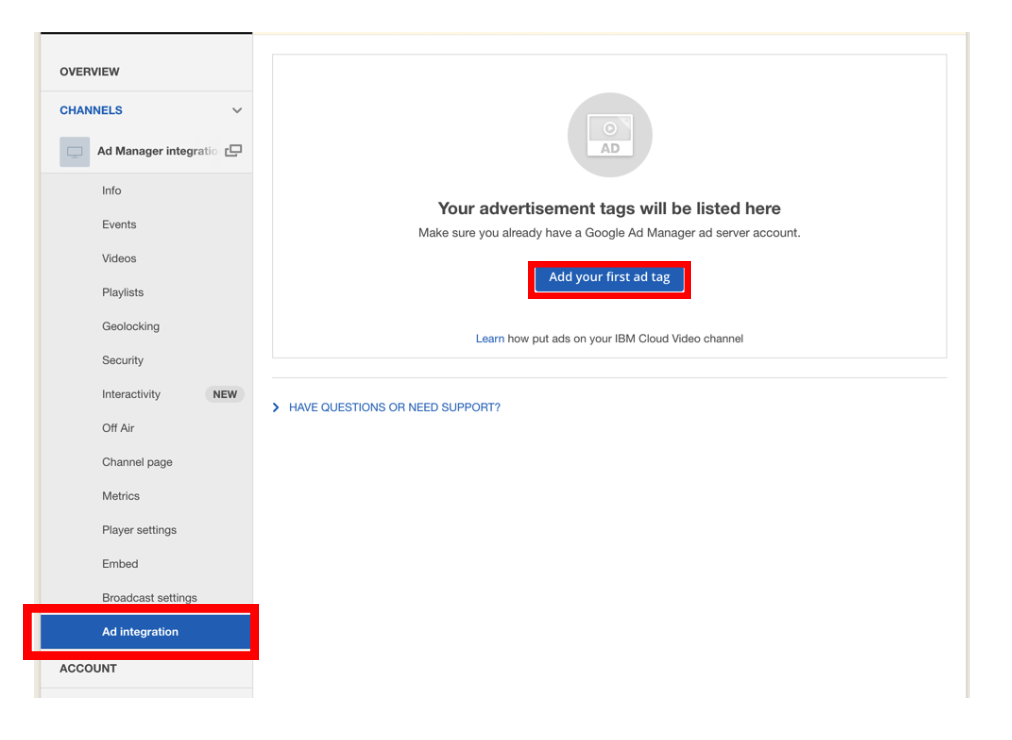 Step 2.2. Adding a new ad tag
Ad tag URL – paste the Google Publisher Tag generated in Google Ad Manager here. See chapter I. (1.4.)
Title – Display name of the ad setup, visible on your Streaming Manager Dashboard only. It's recommended to use a descriptive title.
Where should the ads be displayed?

Live broadcast or VOD – Choose what content type the integration is for
'Live' is Live Streaming channel, 'VOD' are all the videos under it

When should the ads be displayed?

Pre-roll or Mid-roll – Choose what ad position the integration should run
Pre-roll – runs before the content starts
Mid-roll – runs during the content in set intervals or on your manual cue

Ad will be displayed every… –duration in minutes between ad breaks (timer starts when players load) – 5 minutes by default
Choose 'Manual' to trigger ad breaks on Live streams manually, at the click of a button. You can learn more about this feature in 2.4.

What custom meta fields should be sent to Google Ad Manager as Custom Parameters? – You can request Streaming Manager to send Custom Metadata to Ad Manager with each ad request. The Meta fields and values to be sent can be set up under the main menu Integration & Apps – Custom Metadata (see 2.5.)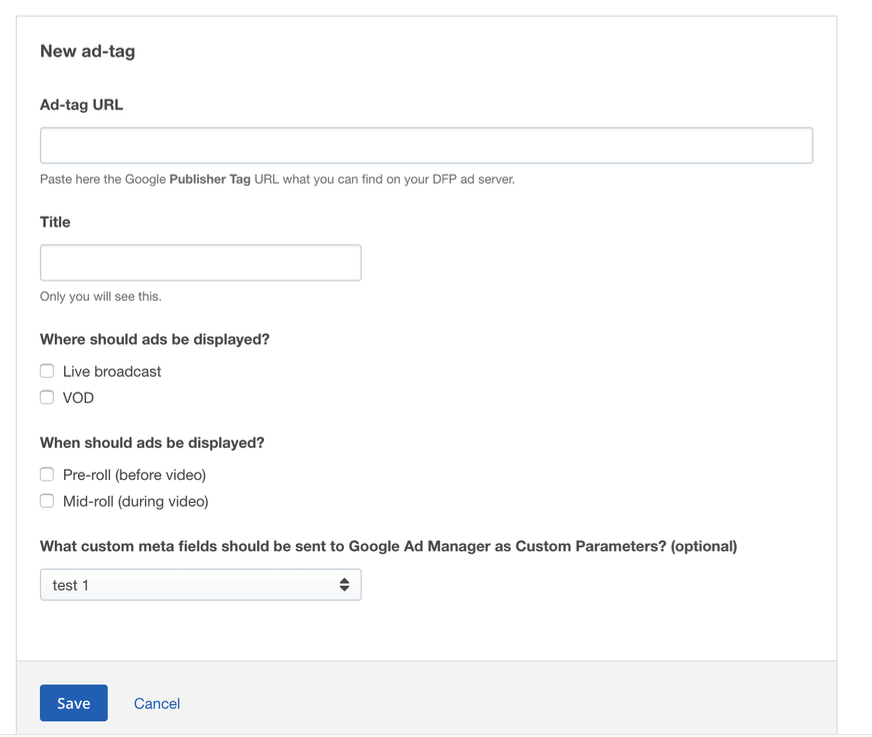 Note - in case you are about to record an Ad Tag for content you already have ad integration for, you will be prompted to select which Ad Tag to use there. For multiple conflicting points you will be presented with multiple options.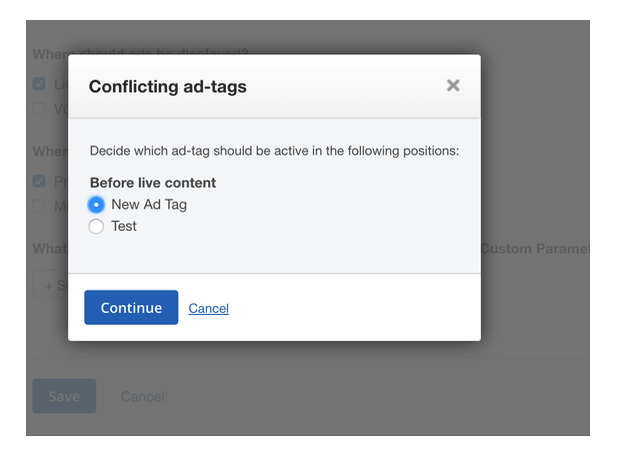 Note – New Ad Tag setups you save may take up to 10 minutes to propagate.
This completes the Ad Integration of your channels.
Step 2.3. Maintenance - Managing your Ad Integration
You can delete-, add new-, and edit certain aspects of an already set Ad Tags.
Check the box next to the Ad(s) on the left side
Click Delete to remove the Ad Integration
Click Pause to disable the Ad Tag. While paused, no ads will be run on the content the Ad was set up for. You can resume the ads any time. Note, changes may up to 10 minutes to propagate.
Click Resume to re-enable the Ad Tag. Note, changes may up to 10 minutes to propagate.
Click 'Edit' on the right to change certain aspects of your Ad setup. Please note you can only edit one Ad Tag at a time.

Editable fields
Title
Custom Metadata
Interval for non-manual Mid-rolls

For any other changes you are required to delete / add a new Ad Tag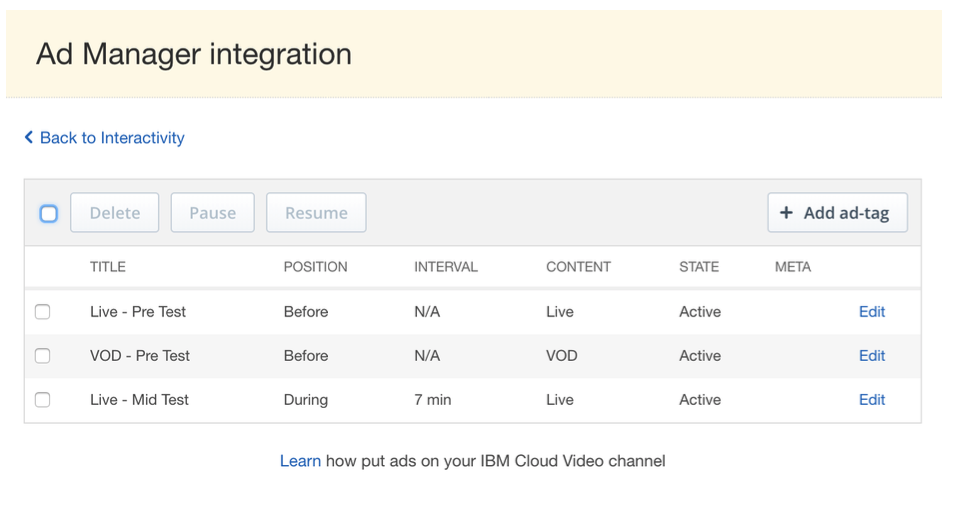 Step 2.4. Advanced - Mid-rolls and Manual ad breaks
Two types of Mid-rolls can be set in IBM CV Streaming Manager
Timed intervals – Ads will be requested from Ad Manager at a set frequency (e.g. every 5 minutes). Timer starts from when the CV Player is loaded, thus is unique to each viewer. Available for both Live and VOD.
Manually initiated (Live only) – For Live streams choosing Manual intervals will enable a custom tool to launch an ad break on your side. The tool will become available once the 'Manual' Mid-roll Ad Tag has been saved.
To Enable the Mid-roll tool, set up an ad tag for the required channel as follows


Where should ads be displayed? – Live broadcast
When should ads be displayed? – Mid-roll (during video)
Ad will be displayed every… - Manually initiated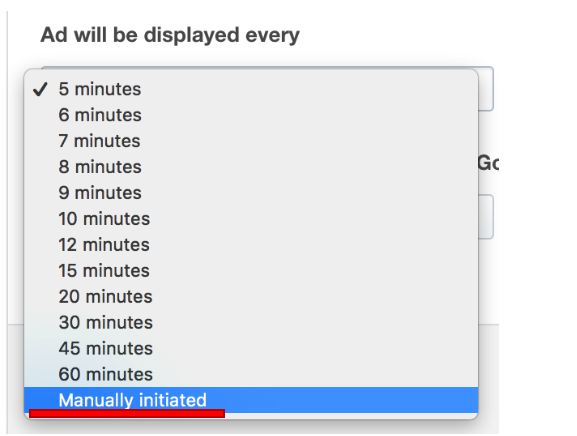 2.4.1. Method to launch a commercial break using the Mid-roll tool
Navigate on the SM Dashboard to the channel you are broadcasting on – it's very important you choose the correct channel – click Info page
After a successful ad setup the tool should appear saying 'On-demand Mid-roll tool' at the top of the Info page.
Clicking this link will pop up a separate browser window with the Mid-roll tool.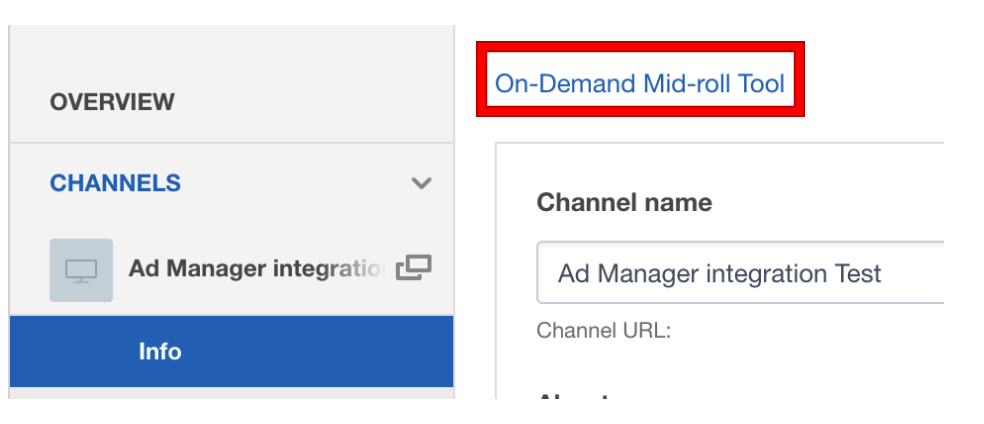 Mid-roll tool controls

Number of ads – A roll-down showing numbers 1 through 6.
The number sets how many ads will be requested from Ad Manager in a sequence. Setting the number to 2 will mean two ads being requested one after the other. The same ad tag will be used for all requests made. See 2.4.2. for information how to set up breaks with specific order of commercials and non-repeating ads.
Click Play ads to launch the commercial Note, you can't cancel an ad break, nor can you issue another break while one runs.

  2.4.2 Programming Ad Sequences during Manual Ad Breaks
The same ad tag will be used for all requests made during an ad-break. In case you prefer to run different ads in each slot during a break, or ads in a specific sequence, please make sure to set up the ad priorities and frequency caps in Google Ad Manager in accordance (see below).

Recommended for specific ad sequences – You can set frequency caps for each Google Ad Manager Line Item to a time period that's as long as your commercial breaks (e.g. 5 minutes). This will allow each ad targeted to the commercial breaks to play only once per ad break, but possibly play again by the time the next break comes. You can also use standard-type Line Items with set Priorities to create an order in which ads should run (highest priority ad will run first, second highest will run second, and neither will run twice within the same break, as they have a set frequency cap)
Additional notes
There is a slight delay of about 1 to 3s from initiating the commercial break on the Broadcaster side and the actual display of advertisements in the CV Player.
For those viewers who were not targeted with an advertisement during the break the Live stream will remain visible, the content is not blacked out. The ad plays over the stream and it does not pause the video feed.
For those viewers who did receive an ad, the content during the ad break is covered out and is not visible. Using the tool thus is ideal during natural breaks in the content that viewers can miss.
Neither side can cancel the ads once triggered, and ads can't be called onto already playing ads. Once launched, the ads will play in full.
Step 2.5 Advanced - Custom Metadata sent to Ad Manager
You can set up IBM CV Streaming Manager to send additional information on your content to Google Ad Manager via Custom Parameters. Each ad request will send this data if you choose Custom Metadata fields when saving the Publisher Tag on the IBM CV SM Dashboard.
The Custom Metadata fields (IBM) will be sent to Ad Manager as Custom Parameters (Google).
In order to capture the data in Ad Manager
either name Custom Metadata fields on your IBM CV Dashboard the same as your already set up Keys in Google Ad Manager,
or create these Keys in Ad Manager with the same name as you used to name Custom Metadata fields in Streaming Manager.
If the two names are identical, their values will be sent successfully.
You can create Custom Metadata Fields – and set their values per channel or VODs – on your Streaming Manager Dashboard.
Navigate to the Integrations & Apps menu – choose Custom metadata – click Channel Data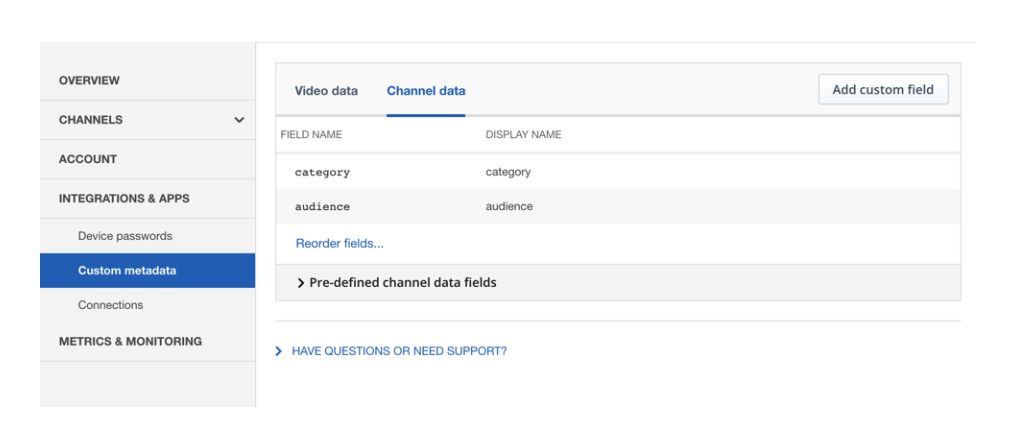 To Add a new Custom Metadata field, click Add custom field.
The fields you set will be the same for all channels in your SM account, but you can set their values for each channel individually.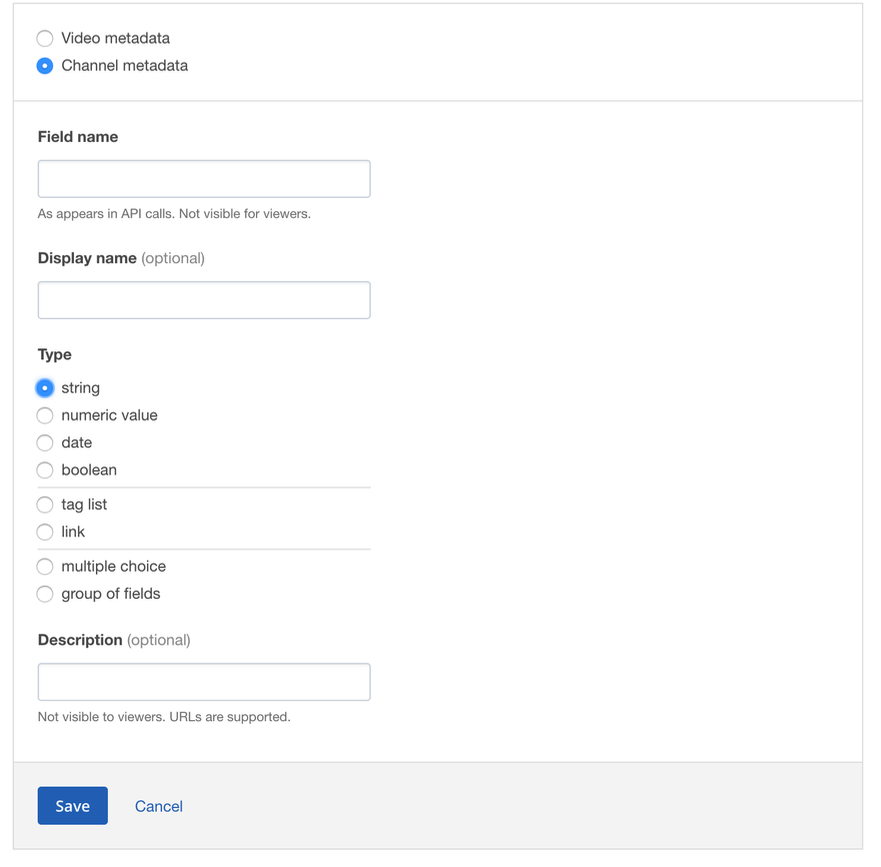 For Ad Integration purposes - Choose Channel Data
Field Name – this is the actual name of the parameter, which you should match to the Key name in Google Ad Manager. It should be the exact same string.
Display Name – (optional) – You can also use a second name to make the field more easily identifiable. This will be visible only in IBM CV SM.
Type – you can set the type of value you want the field to have. 'string' is recommended for most cases such as passing content category names or keywords / tags / labels.
Description – (optional) – Additional display-only explanation on what the field stands for, visible only in IBM CV SM.
Once your account Is set up with Custom Metadata Fields, you can define the values of these fields for each channel. These values will be passed with each Ad tag if you choose to include them in your Ad Tag setup (see 2.2.)
In your IBM CV Streaming Manager Dashboard navigate to ChannFels – choose the channel you wish to set the field values for – click Info at the top of the Channel Menu
On the right scroll down to 'Custom fields' and provide the values you want the channel to communicate to Google Ad manager.
Click Save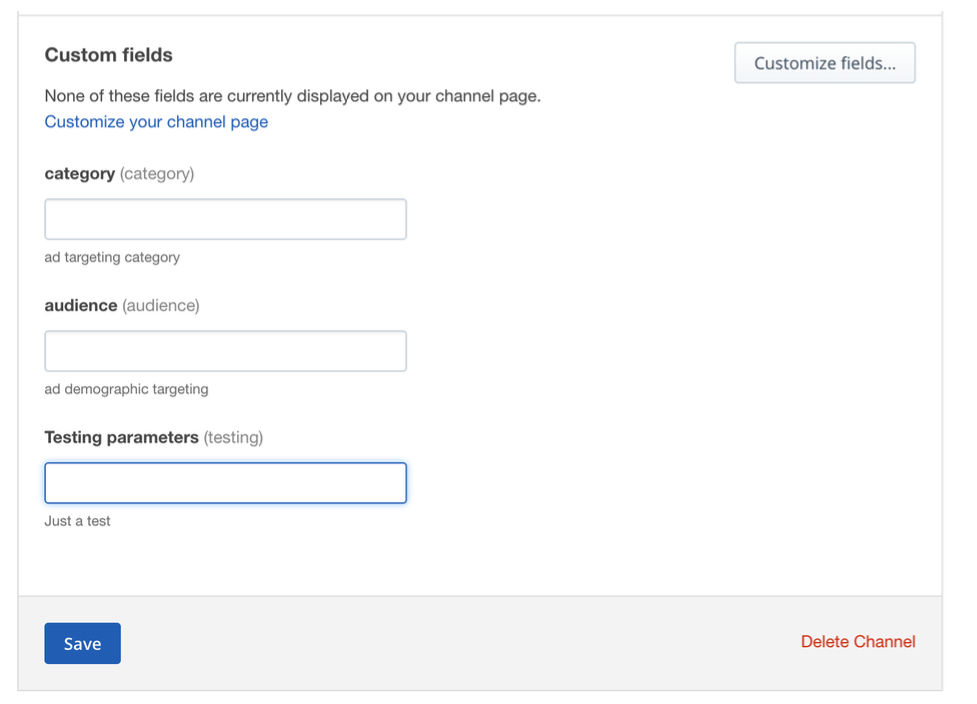 The information will be sent to Ad Manager with each ad request in the custom parameters section of the tag (cust_params=) in the format of key value pairs, where the key names are the custom fields (the field name, the grey string above the text fields) and their values as the value set for each channel on the SM Dashboard.
F