The Security tab in your Ustream Align dashboard is the place you go to set how viewers will access your content, and how you control who can view your broadcasts and recordings.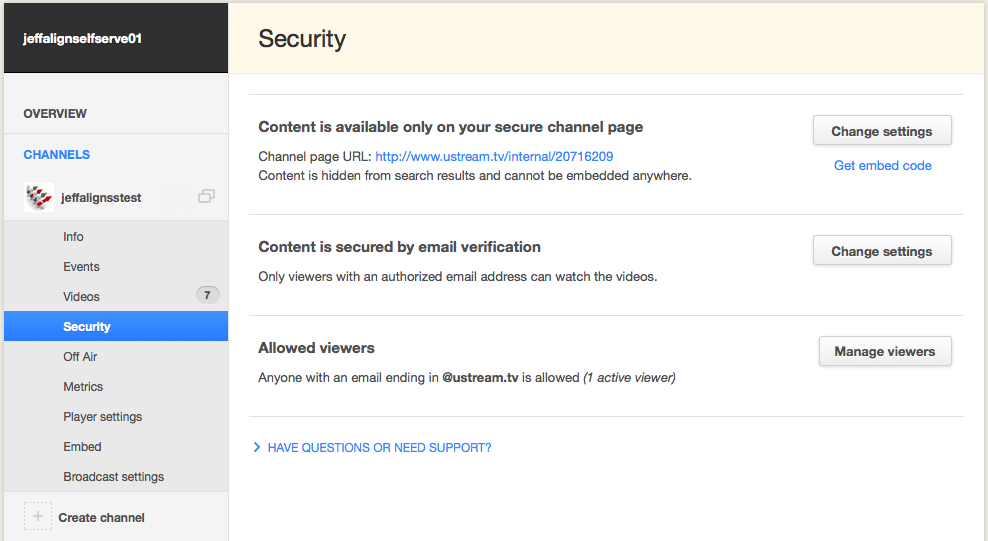 Content Location

The first row in the Security tab deals with where viewers can watch your content. You can set this to be viewable only on your secure Ustream channel, or you can choose to embed your content on any webpages that you choose. Click on the Change settings button to bring up this field:

By clicking on the Change settings button, you can change the location of your content from your Ustream channel to your own webpages, and back again. If you choose to have your content available on your own webpage, you can specify the URL where the content can be embedded. By clicking the 'Allow all addresses starting with this URL' button, you can simply list the top domain for your site, and your content will be available on any child pages of that domain. Be sure to click Save when you are finished.
Viewer verification settings
The second field on the Security tab deals with how you wish viewers to be authenticated when they try to view your stream. For self service (online signup) plans, email verification is offered. Enterprise level users can also choose to enable single sign-on (SSO) access for their viewers.
Restricting Viewership

When using email verification as your authorization method, you can change what email addresses are allowed access to your stream. You can choose to either limit viewership to a specific email domain (or domains), or you can individually allow access to particular email addresses. Click on the Manage viewers button to change these settings.

Email domains
On this tab, you can set the email domains that are allowed to view your broadcast. By clicking on the dropdown menu next to 'Viewer email domain:', you can change or add domains that should have access.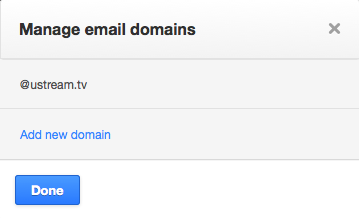 Reset Authorization button: Authorization for viewing a stream, after being sent, expires in 7 days, but you can reset a domain's access at any time with this button.
Specific email addresses

In this tab, you can manually enter specific email addresses for viewers who you wish to give access to. You can also remove all individual emails from this list with the Remove all button.
What the viewer sees:
When a viewer goes to either your Ustream channel URL or to the page where you have embedded your player, they will first be asked to enter their email address.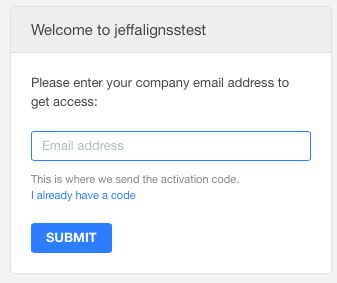 If they enter an email address that is not authorized, they will get a red error message. If they enter an email address that is authorized, they will get a confirmation message that an email with credentials has been sent to their email address.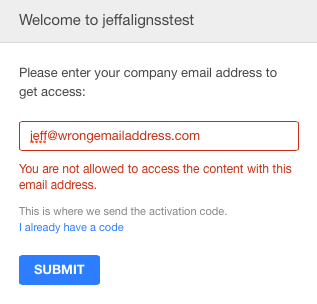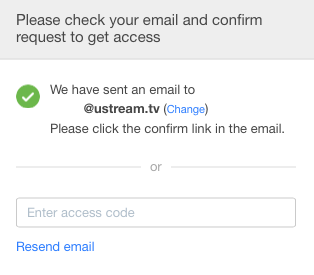 Upon opening the confirmation email, a viewer can either directly click the Confirm my email address button to be taken directly to the player, or they can copy and paste the access code into the field on the channel page.