Q. I'm a pro broadcaster, and I made a recording last month. I don't see the recording anymore...what happened?
A. As a pro broadcaster, IBM Watson Media will save your videos for a minimum of 30 days without it being saved manually within the dashboard. After 30 days from the original date of your broadcast have passed, your videos are subject to deletion. Be sure to save or download your videos in the dashboard before this happens.
Q. I had a Pro Broadcasting Plan, and I cancelled my subscription. My videos were deleted! If i sign up for a new Pro Broadcasting Plan can I get my videos back? / I am on a basic account, and my videos have disappeared!
A. If you have a Pro Broadcasting Plan, and have multiple recorded videos on your channel, you will need to download videos from your channel if you are planning on canceling your account. We do not store videos older than 30 days on basic accounts, and if your videos on a Pro Broadcasting plan, are older than 30 days when your account goes back to basic, these videos will also be deleted. We do not offer video recovery for previous deleted videos, even if you resign up for a Pro Account. When you cancel your account, there is a popup that asks for confirmation that you do understand that videos will be deleted. The good news is that if you sign up for Pro Broadcasting again, and have an archive of your videos available offline, you will be able to upload your videos back to your channel, using the video upload too. You can find an article about the video upload tool here.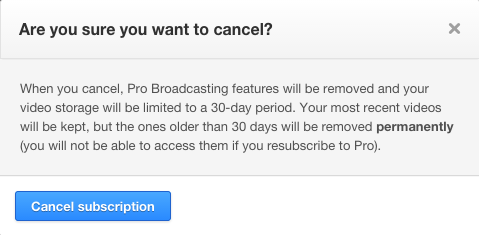 What happens to my videos when I switch from Pro Broadcasting to a basic account?