If you are seeing a message that says: "Connecting...Connecting" when you are trying to connect to a chat room please try the following: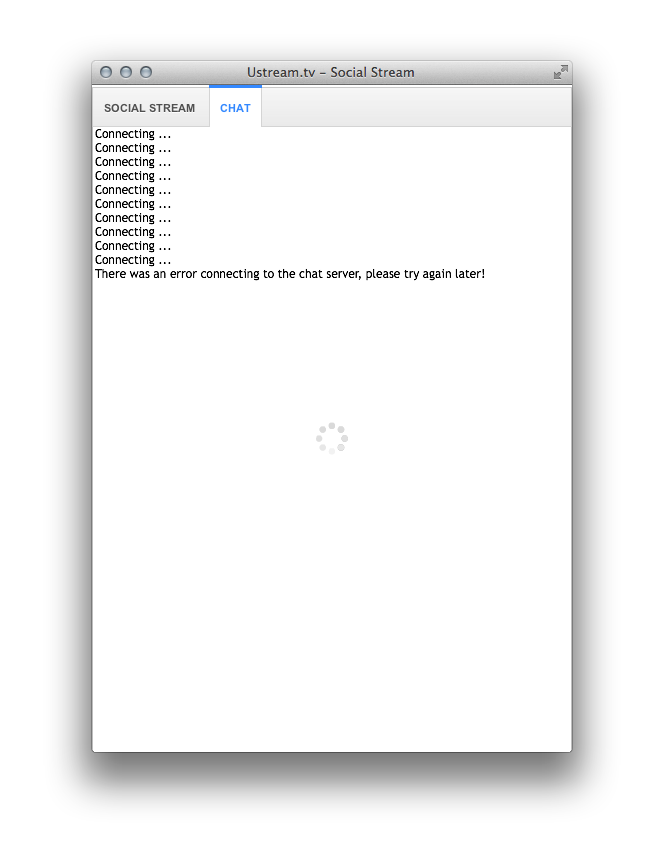 1. Note the URL of the channel that you are on. ex. http://www.ustream.tv/ffrc

Please try going to other Ustream channels and see if you can connect to chats on other channels.

If you can connect to other chats then you were likely banned from the channel by the broadcaster or moderator. Broadcasters and moderators may ban users in their chatroom at their own discretion. Ustream is unable to lift this ban.

If you cannot acces the chat on other channels please proceed to step 3 below.

Please see the article here on opening ports in your Firewall: https://ustream.zendesk.com/entries/21119702-advanced-opening-firew... Pay particularly close attention to ports 843 and 6667.  These ports are required for the IRC chat to function.

If you still cannot acces the chat please clear your Flash Cache.

PC

http://forums.adobe.com/message/4278569

Mac

- Right click on the Ustream Player and Select Global Settings.
-Go to the Storage Tab and Select Delete All

Restart your web browser
If you are seeing a blank chat window when you are trying to connect to a chat room please try checking your Internet connection and then reconnect to the chat.