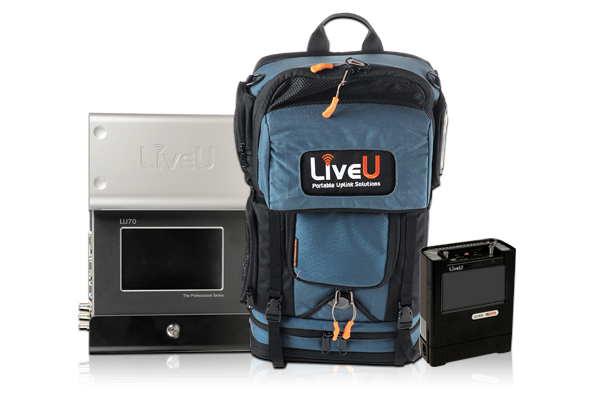 LiveU devices transmit resilient broadcast-quality live video from anywhere without the need for satellite or a wired connection, and substantially improve reliability compared to Wi-Fi or single air card transmission. LiveU bonds together multiple 3G and 4G connections across all major cellular carriers, as well as wifi and LAN where available. The devices can directly transmit live video to your channel from anywhere, even on to move.
The LiveU units receive a video input either directly from a camera or from a switching/recording device. The units are battery or AC operated, and LiveU offers 24/7 phone and email customer support. 
IBM Watson Media customers can rent or lease LiveU units for any type of event or for ongoing usage. 
For more information visit liveu.tv
 
LU70 Product Attributes
LU40i Product Attributes

Photo 

 
 

Overview

Thanks to its proprietary antenna, greater number of modems, and strong encoder, LU70 will have the most consistent and reliable results in certain challenging areas such as crowded venues, inside big structures, and farther away from cellular towers.

LU40 is a lightweight, compact, and lower cost solution that is recommended for use in good 3G or 4G coverage areas.

Resolutions

1080i50/60, 720p50/60, 720p25/30, D1, Half D1, CIF

 

1080p50/60/25/30/24, 1080i50/60,   720p50/60/25/30/24, 480p

Video Inputs

HD/SD-SDI, HDMI, firewire, Analog

HD/SD-SDI, HDMI, Analog

Number of Modems

6 Modems or more

4 Modems                                                                              

User Interface

Via touch screen on the unit or remotely from web or mobile device        

Via touch screen on the unit or remotely from web or mobile device

Battery Life

Internal: 90 minutes. External: 2Hours.  Hot Swappable

3 Hours per battery.                                                                                    

Supported Modems

Supports 3G, 4G, Wifi, LAN                                                     

Supports 3G, 4G, Wifi, LAN                                                     

Dimensions

25 x 36 x 11.5 cm / 9.84 x 14.17 x 4.5 inches

 

With 1hr battery: 129mm x 150mm x 58mm / 5.07" x 5.9" x 2.3" (W x H x D)              

 

Weight

20 Lbs

2.2Lbs with 3hr battery
Obtaining the RTMP Address and Stream Name for your Channel.
For information on how to get your RTMP URL and Stream Key, please see the following article here.