Adobe Flash Media Live Encoder (FMLE) is a powerful free encoder that allows you to broadcast directly to IBM Cloud Video.
Download XML File from the Broadcast settings of your Channel
Log in to your IBM Cloud Video account, or create a new one if you don't have an account yet.
Click on your user icon in the top right of your screen and click on Dashboard.
Click on the channel you want to stream to and then click on Broadcast Settings

4. Click on the Encoder Settings.

5. Download the XML file
6. Keep this tab open and proceed to the next step. You will need this information shortly.
Configuring FMLE to Broadcast to your Channel
Launch FMLE on your computer
Go to File>Open Profile
Navigate to where the XML is saved and select Open
This guide provides a brief overview of all the options when using FMLE
The default settings are a great place to start. Notice that your RTMP URL for your channel is now in the FMS URL box. The Stream Key for your channel is now in the Stream box. Downloading the XML saved you from having to type these in manually. The numbers in the screenshot correspond to the list below.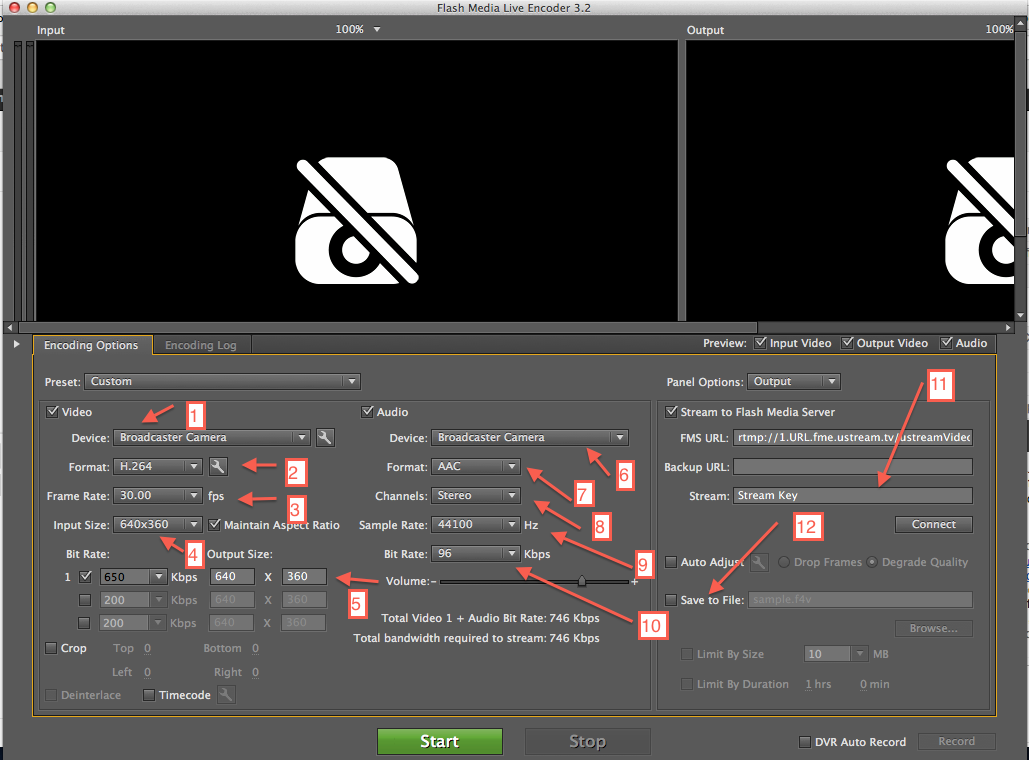 Video Device: Select the video device you want to use to stream
Encoding Format: Select H.264 over VP6 if possible
Frame Rate: Standard 30 fps
Input Size: Choose an input size that is equal to your output size below. Note that the ratio of your input size should be the same.

Output Size and Video Bit Rate: Make the output size equal or less than the input size. For larger output sizes, you will need a higher bit-rate.

Note: encoding at a higher bit rate will require more CPU resources and bandwidth.

Audio Device: The audio device you want to use for the stream. This does not need to be the built in mic to your camera. You can select an alternate audio input.
Format: Choose AAC if possible. If you are on a PC and do not have a liscense from Main Concept choose Mp3.
Channels: Stereo is preferred over mono.
Sample Rate: 44100 Hz or 44.1 kHz is a good starting point unless you have audio gear that requires something else.
Audio Bit Rate: You could start at 96 kbps and go up from there.
RTMP URL and Stream Key: Your RTMP will be populated automatically when you open up the XML file you download from the Remote Console of your Channel Dashboard.
Save to File: You can save a local copy of the broadcast to your computer. Having a local copy is always a good idea.
Sending Multiple Quality Streams to a Single Channel in FMLE
In the Bit Rate section marked #5 above you can send up to 3 streams to IBM Cloud Video. Order your streams with the highest bit rate /output size stream in the first position. You can then place the lower quality stream(s) in descending over in the two other slots.
In the Stream field marked #11 above add a "%i" to the end of the Stream Key. This %i tells IBM Cloud Video that you will be sending multiple quality streams
You can have up to 3 streams at once going to the same channel when streaming with FMLE. It is recommended to add streams one at a time to help make sure you have adequate bandwidth. If you are sending multiple streams please make sure Allow Multiple Quality Versions is not checked (the current default). More info here.
Here is an example of FMLE being used to send 3 different streams to a channel: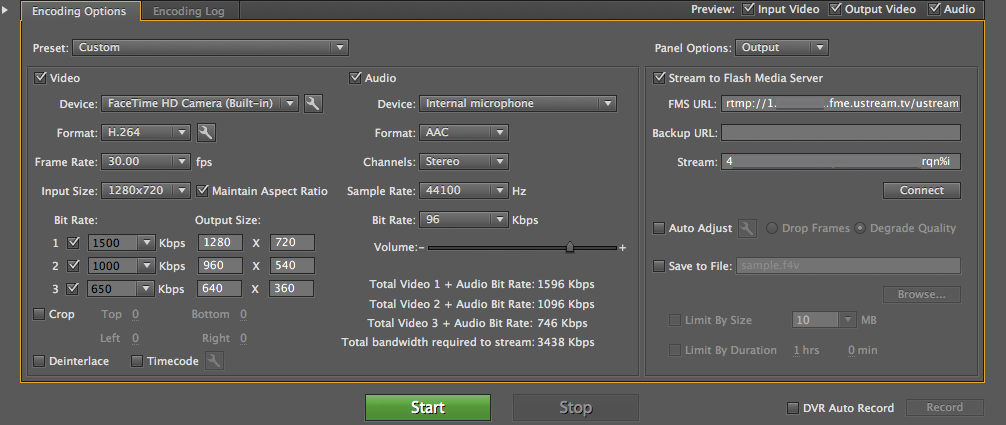 Starting the Broadcast
Press the Connect button to connect to IBM Cloud Video, then click the 'Start' Button.
See also