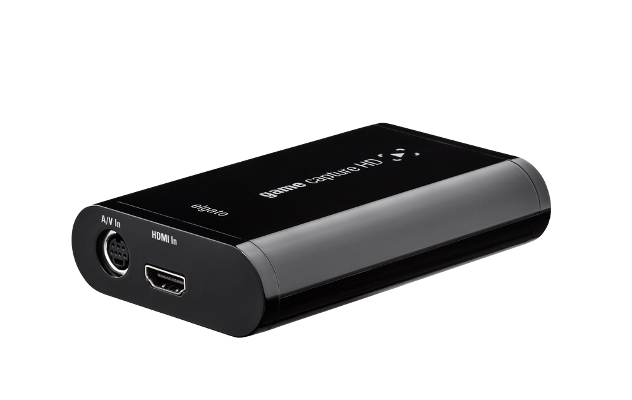 The Elgato Game Capture HD is a device designed for recording and streaming your video games. It is designed to accept HDMI IN from your game console or camera. Then it has an optional HDMI output that you can hook up to your TV. The device then sends the encoded video over USB 2.0 to a Mac or PC.
It works best if you stream using the mic built in to your camera or have a camera where you can plug an external mic in directly and pass the audio over HDMI. The Elgato Game Capture comes with its own software. It is not compatible with Ustream Producer.
Elgato Game Capture HD Topics
Downloading Version 1.4 or above of the Elgato Game Capture HD Software
Please make sure you have the latest version of the software. You can update your current version from inside the software, or download the most current version here.
Connections and Setup with a Camera or Game Console
Turn your camera on and make sure it is set to output HDMI
Plug your camera or game console into the HDMI IN port on the Game Capture HD
If you are using a Playstaion 3 you will need to use the component breakout cable instead.
Optional: Plug an TV or monitor into the HDMI OUT port on the Game Capture HD. This will be helpful to monitor the incoming feed or you are are gaming.
Plug the Game Capture HD into your computer via USB 2.0
Game Capture HD Software Setup
Launch the Elgato Game Capture HD software
The Game Capture HD should be recognized.
Under the Device heading click on the tool icon.
Select the Input Device, Input, profile and quality from the list
Here are the frame sizes of the profiles:

Mobile - 480x360
Standard - 640x480
HD 720 - 1280x720
HD 1080 - 1920x1080

If you want more detailed information about the profiles or settings in this menu please go visit Elgato Support below: here.
Game Audio: turn the knob to adjust audio level.
Live commentary: This is if you want to do live commentary for your gameplay. If you are capturing from a camera you will want to press the knob to mute live commentary.
Under the Live Streaming tab, select Ustream as the Live Streaming Destination. Then enter your username and password and select your channel from the list.
Optional: You can instead choose an: RTMP URL destination instead of the Ustream Destination. Please find more info on finding your RTMP URL and Stream Key here.
Adjust the frame size/bit rate slider to set your encoding settings. We have an article here that explains encoding settings in further detail here.
Click on the globe icon to start the stream. You should now see a live banner and the green light should be on the in Game Capture software.
Recording
Local Recording: You can start and stop local recordings using the red button below the tags menu. This will record a copy of your broadcast to your computer.
Auto Record to Ustream: If you are a Pro Broadcaster you will have your broadcasts recorded automatically. There is more information on auto record here.
Record to Ustream with Remote Console. More information can be found here.