Ustream Web Broadcaster
The easiest and fastest way to stream is with Ustream's free, browser-based Broadcaster. It works automatically with your built-in camera and mic, or you can connect USB accessories for higher quality. Record and save streams for on-demand viewing.
Compatible cameras
Built in webcam and mic
Logitech C920 HD USB Cam
Ustream Producer
Ustream Producer includes everything you need to do a professional broadcast on your Windows or Mac computer: HD broadcasting, multi-camera switching, screen capture, VOD file playback and support for Firewire, HDMI and HD-SDI cameras.
Compatible cameras
Built in webcam and mic
HDMI Cameras (via capture cards)
SDI Cameras (via capture cards)
Ustream Broadcaster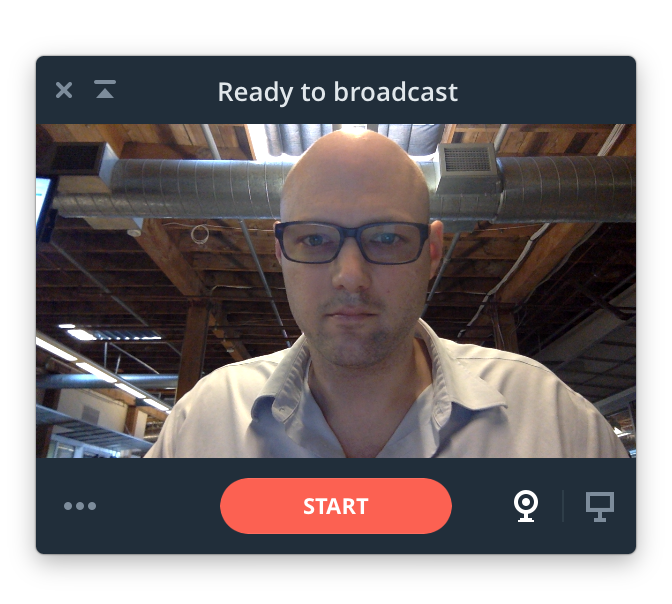 The Ustream Broadcaster offers a fast, lightweight solution for combining a built in camera with screensharing. This allows you to share reports, powerpoints, and software demonstrations.
Ustream mobile apps
Ustream free iPhone, iPad and Android apps allow you to broadcast live video from anywhere. Share moments or capture breaking news events in real-time, wherever and whenever they happen. Allows broadcasting on 3G, 4G/LTE and WiFi.


Ustream certified encoders
Ustream has partnered with industry-leading encoder manufacturers to offer Ustream Certified options for all types of workflows. From multicamera professional switchers, to enterprise-level rackmount encoders, to bonded cellular devices.