Live Playlists allow you to schedule previously produced or recorded videos to playback on a channel at predetermined times, just like a linear TV schedule. You can use it for applications like:
Looping live broadcasts immediately after you finish broadcasting
Filling a channel with continuous programming, even when you are not doing a live broadcast
Building the audience in the lead-in to a live broadcast
Views during Live Playlists will count against your total viewer hours.
Creating a Live Playlist
Creating and editing Live Playlists is easy: you access the controls from the Web Broadcaster in your web browser. Here's how:
Click Go Live to go to the Web Broadcaster page
If you have more than one channel, you'll be prompted to choose which channel you want to use.
Click on Menu and choose Live Playlist from the drop-down.
At the bottom of the page, make sure Scheduling is ON and click Manage your schedule
On the main Playlists management page, you can see any previously created schedules. Click Create new to build a new Playlist.
Here you can easily name a schedule and determine what time to start playing its content. For a one-shot Playlist, leave the Repeat box unchecked. Check the "Repeat Playlist" box to repeat the content throughout the day or to a specific date. Note that the start time depends upon the timezone settings for your account. You can verify these settings in the Dashboard > Account > Settings page. Make sure to set both time zone Region and time zone City to the closest matching option.
When you're ready to choose which videos to be played, click Add New Video on the right. Now you can drag and drop videos in the order you'd like them to play in. Drag items in the list around to optimize the running order. Times shown next to each video are the start and end time relative to the start time for the Playlist, making it easy to see how long your current Playlist run time is. Click Done to finish adding videos, and Save to confirm all the details for your new Playlist.
Hint: try to use videos with the same technical parameters (aspect ratio, resolution, video+audio tracks and codecs) to optimize the viewing experience. Not all browsers support changing these seamlessly in the middle of a continuous video stream.
That's it! When the local time hits the Start time you chose, your channel will start to playback the contents of the Playlist even if you are not logged in to your account. Any viewers visiting the channel page will see the videos play in the order you decided, as if a live broadcast were happening at that moment. If you are still logged in when a Live Playlist plays, you'll see the videos in the image window of the Web Broadcaster instead of the usual preview of your camera. Note the Preview message below the image, this is useful if you are running a Playlist while preparing to go live. To the right, you'll notice a Currently On Air message, and below that the video that is playing at any given moment is highlighted in blue.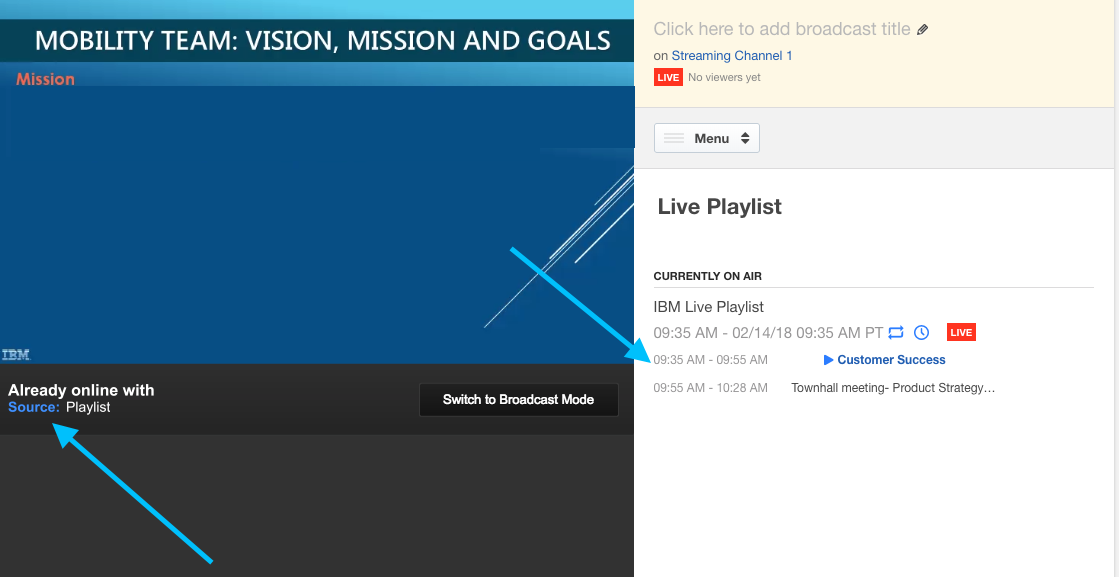 Interrupting Playlists to Start a Live Broadcast
Playlists are a great way to keep a growing audience engaged in the moments leading up to your live broadcast. You can schedule a Playlist to run for 30 minutes or more leading up the the start time, so that as you send reminder messages about your event anyone who navigates to your channel or player will see some engaging content rather than a blank screen. At some point, you'll want to stop the Live Playlist, and begin broadcasting. Here's how:
Click Go Live to go to the Web Broadcaster page
If you have more than one channel, you'll be prompted to choose which channel you want to use.
Click on Menu and choose Live Playlist from the drop-down. Now you can preview any current Live Playlist playback activity
When you want to take over the broadcast, turn Scheduling OFF
When your camera preview shows in the image preview on the left, click the Start Broadcast button to go live.
Note that your channel will momentarily revert to Off Air as the Playlist finishes and the Broadcast begins. To ensure a smooth looking transition for viewers, configure the channel to display a slide or video in your Off air content settings. A simple image saying "up next..." will ensure viewers don't assume the channel has gone dark.
After the live broadcast finishes, you may want to start playing another Live Playlist immediately. This Playlist can be configured in advance, and set with start times that ensure it is ready to play at the end of your broadcast. When your live broadcast concludes, you can simply turn Scheduling ON and the Playlist will take over from your camera.
Playing your playlist as a Replay
The Replay is a new option for Live Playlists that allow you to tag your player with a Replay Badge instead of showing your channel as Live. This is a great option for people who want to run their recorded broadcasts as replays. Here are the steps to setting a Live Playlist broadcast as a Replay:
In the Broadcaster Page, Select Live Playlist from the dropdown menu
Click on Manage Playlists
Create a new playlist or edit an existing one
Below the playlist title, Select the Replay option
Save the playlist
When this playlist is on air, the player will display the replay badge instead of live