There are multiple methods of saving a recording of your broadcast onto your channel. Which one you use will depend on what encoder you are using.
Recording with the web broadcaster
With our Web Broadcaster you can easily record a live broadcast, or record a video without broadcasting. Access the feature by clicking on the camera icon in the upper right hand corner of the screen:
Once there, now hit "Start Record" button at the bottom right of the window.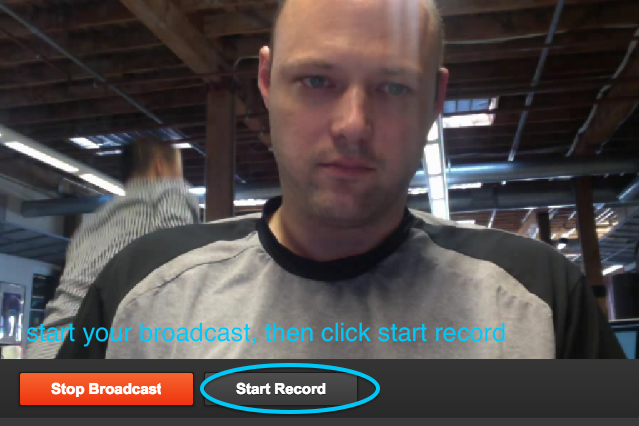 When you are ready to stop recording, hit the "Stop Recording" button:

Fill out the prompted information (all fields are required) and click "Save"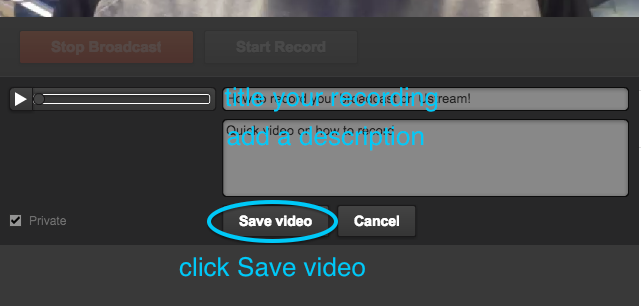 You will now be able to find your recorded video in your channel by going to Dashboard -> Channel -> Videos, where you can access all our video functionalities.
NOTE:Broadcasts recorded in this manner will be limited to 3 hours. Unlike broadcasting from the web broadcaster or the remote console, a new recording will not automatically begin after the 3 hour mark. If you plan on recording more than 3 hours, use the remote record console instead.
Recording automatically on your channel
Pro Broadcasters have the option to set their channels to automatically make a recording any time they go live! In order to do so:
log in to your account and go to Broadcast Settings in your dropdown menu within the channel that is already selected.


To set autorecording for the channel, simply select "edit" and check the box. You can also set whether or not your autorecordings will be publicly available or private by default by accessing the dropdown menu in this tab.

Please note- automatic recordings are only saved by default on your channel for 30 days. You will need to manually save the autorecordings in your video management tab in order to preserve them.