If you have forgotten your password, click the "Forgot Your Password" link: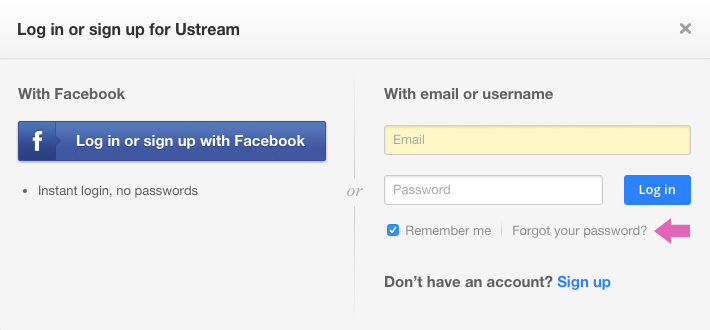 You can also go directly to http://www.ustream.tv/forgot-password and fill out the required fields.
Once the form is submitted an email will be sent to the email address in your account. If you do not receive an e-mail, please make sure to check all of your spam and bulk folders. If you think the email address on file is no longer active or you cannot get access to it, you can file a ticket to our Community Support staff to help further: http://www.ustream.tv/support-ticket.
Frequently Asked Questions:
I don't have access to the email linked to the Ustream account anymore. Can I still access my Ustream account?

If you do not have access to the Email Account associated with your Ustream Account, you will not be able to perform a password reset. If the Email Account you lost access to has been deleted, it may be possible for you to recreate the account using the same Email Address before you lost access.

Someone has hacked my Email/Ustream account! What should I do?

Contact abuse@ustream.tv for issues regarding account theft and abuse.

I no longer have access to the Email Account associated with my Ustream Account, but I have purchased services from Ustream in the past. Can I have access to my Ustream Account?

If you have previously purchased services with Ustream, please open a support ticket with us and we will investigate the issue further. To open a Support Ticket, please click here.