By creating an organization you can join multiple accounts together. These can be as dynamic as mixing a Video Streaming account with a Video Streaming for Enterprise account, allowing selected administrators to quickly switch between the two, to combining multiple accounts of similar function.
Additionally, you can assign administrator status to other team members who you would like to access the organizational account. Your team members can log-in via Single Sign-on or IBM ID.
Select organization
Admins can manage multiple Organisations and Accounts within IBM Video Streaming platform. The Organisation selector helps admins to navigate and find the needed Organisation and Accounts.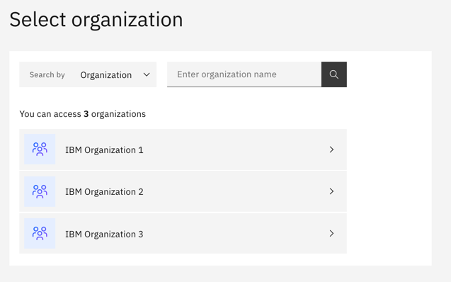 Also, an additional search function is available. With this admins can search for Organisations and Accounts based on:
Organisation name
Administrator email - you need to be an Organisation admin to find Organizations and Accounts based on other admins emails due to security reasons
Account ID
Benefits of Organizations:
The ability to mix Video Streaming and Video Streaming for Enterprise accounts under a single organization umbrella.
Multi-office Coordination that weaves together many different accounts that might be associated with different activities within the same Organization.
For streaming service resellers that want to give individuals their own "walled off" account.
Provide your team members with administrator access to the account via IBMid or SSO authentication.
How to create and login to an Organization:
Currently, Organizations are only available for Video Streaming and Video Streaming for Enterprise accounts. When first purchasing one of these account types, let your sales representative know you are interested in adding organizational access for your new account(s). If you already have either of these products and would like access to new Organizations, please contact your Customer Success Manager. To login to your Organization, go to https://video.ibm.com/ibm-login and click Login with your IBMid.
Managing your Organization:
Once you have your Organization set up, you can control how the Organization and the accounts under that Organization are accessed. This is done by clicking on the 'Organization settings' link under your Organization name. In this example, we are looking at the settings for an Organization we have named 'CS Team'.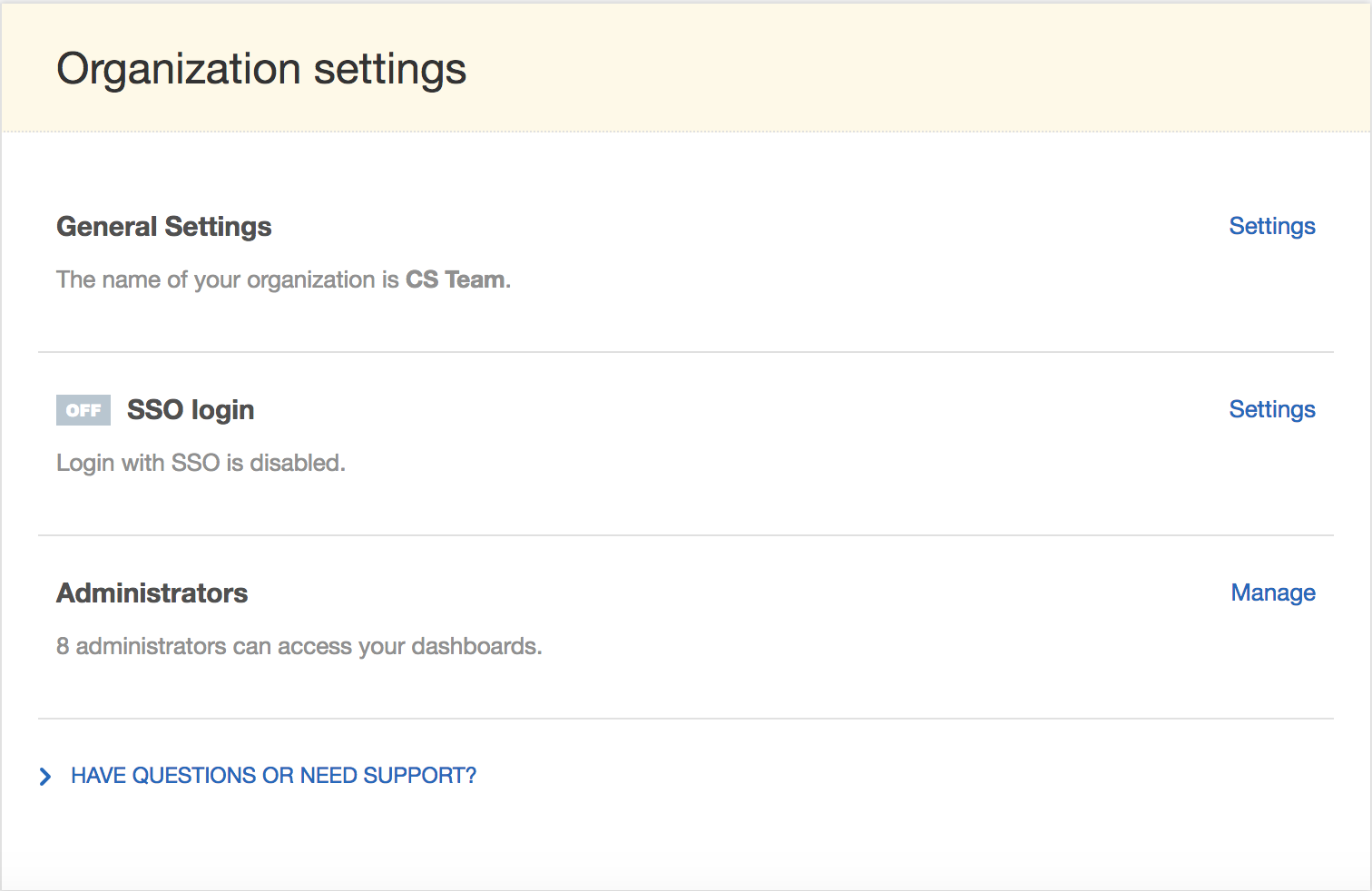 General Settings:This page allows users to change the name of the organization. This name will appear for other administrators and managers who have access to the organization, but it is invisible to non-administrators (viewers do not see this name anywhere).
SSO login:This setting controls the Single Sign-on for administrators, as it relates to your Organization.
Administrators:This setting controls the administrators on the account, allowing you to add or revoke access as needed.
Providing administrator access to other team members:
One of the strengths of the Organization management feature is that it allows you to share administrator duties for your accounts without needing to share login. If you are set up using SSO, you can add your team member's SSO-oriented email addresses under the Administrators section of your Organization management settings tab. Once the team member's SSO-oriented emails are added, administrators will visit https://video.ibm.com/ibm-login and click "Log in with your company account" and enter their email to see the accounts in the Organization.
Depending on the number of teams you are on, another administrator may choose to make you an admin of their organization, as well. In this case, your same email can be used for login, and you will see multiple organizations available for you to administer from your Organization view page.