Streaming Manager for Enterprise Federation with ADFS
Preconditions
AD, ADFS 2.0 installed (https://www.microsoft.com/en-us/download/details.aspx?id=10909) (choose federation server during install)
Configuring ADFS 2.0
ADFS configuration wizard
Start the ADFS configuration wizard, create a new Federation Service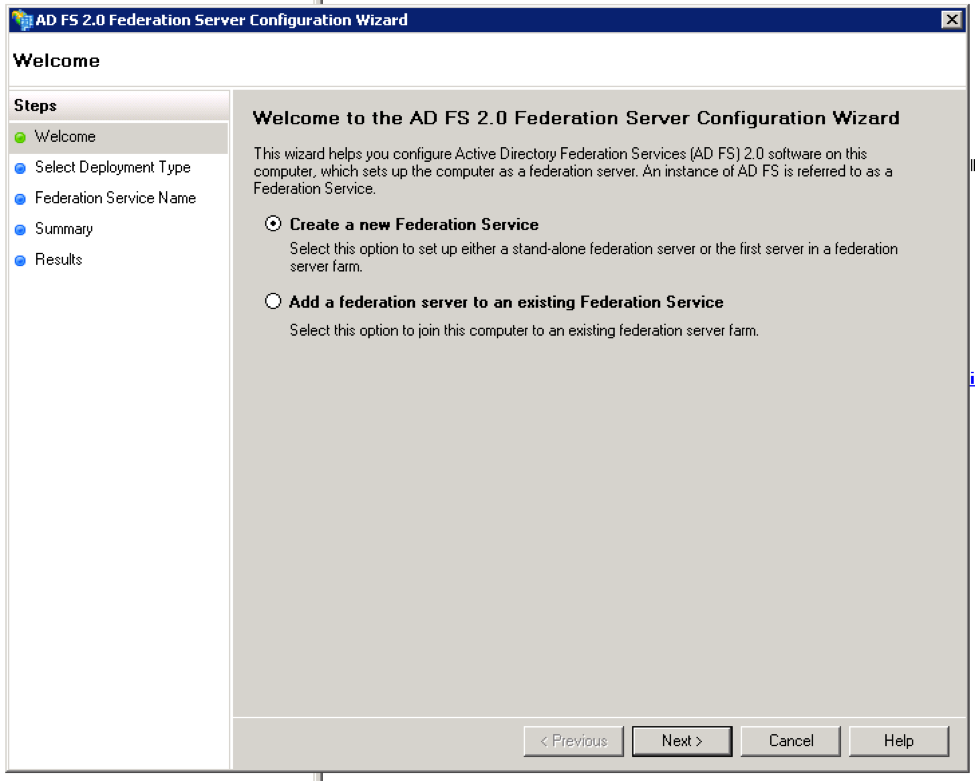 Create a new user for ADFS service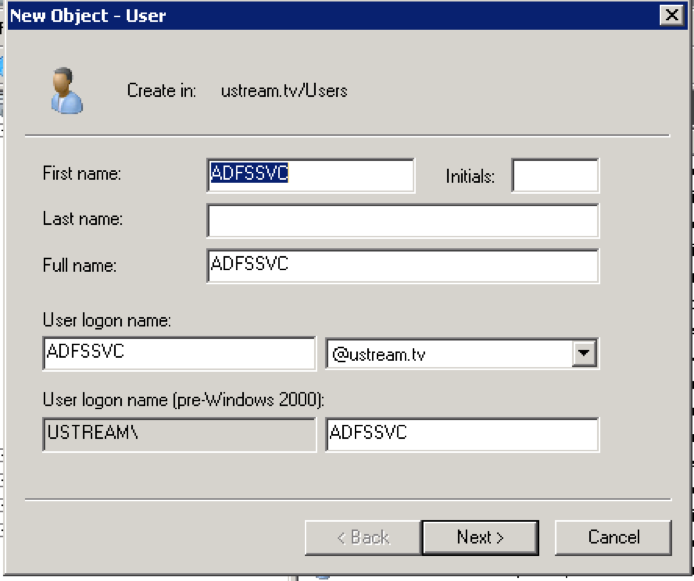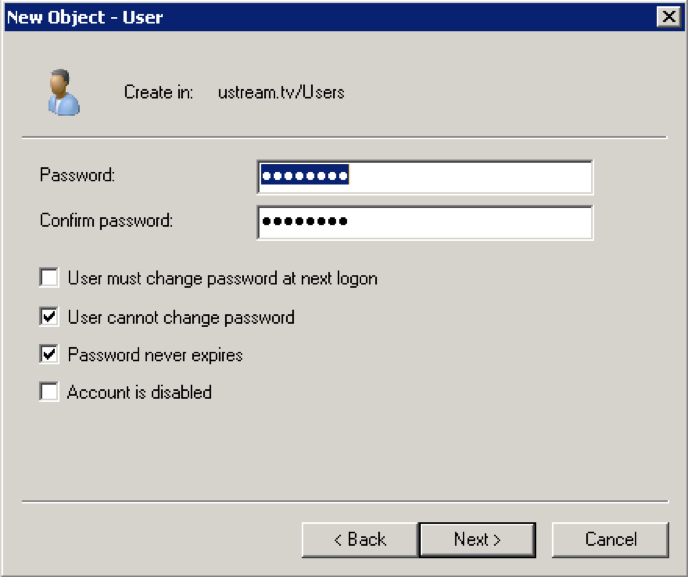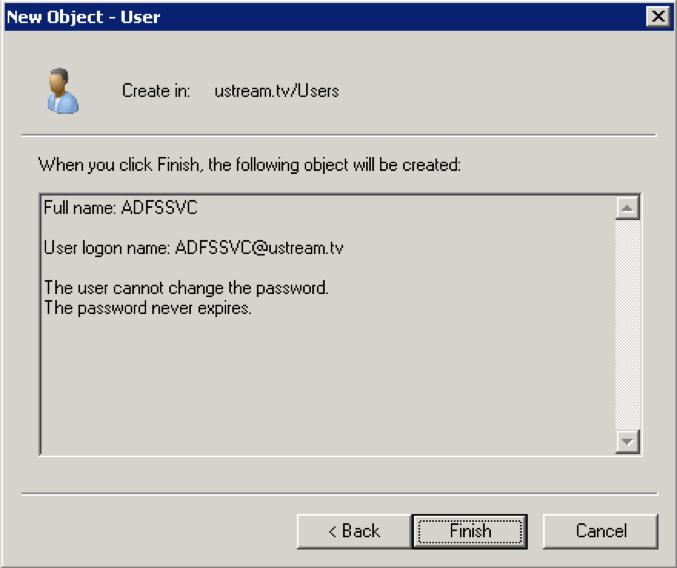 Select deployment type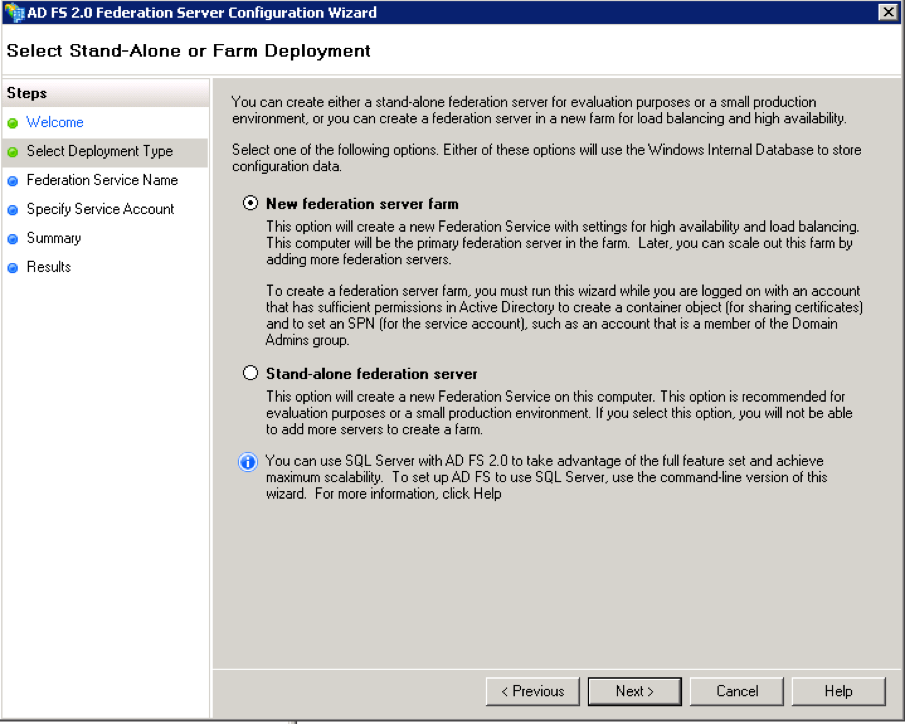 Specify the Federation Service Name. E.g: align.ustream.tv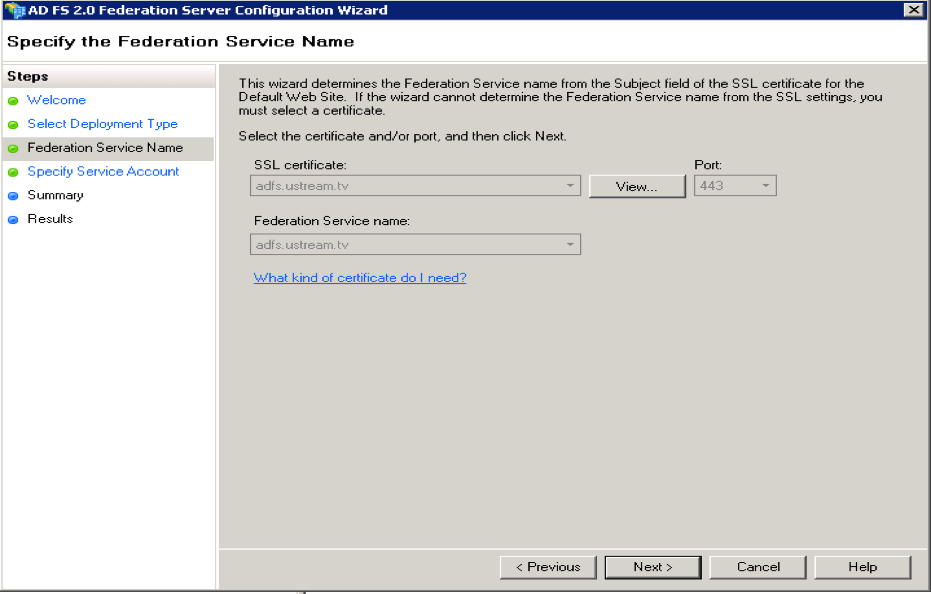 Specify service account. Use the previously defines service user for this purpose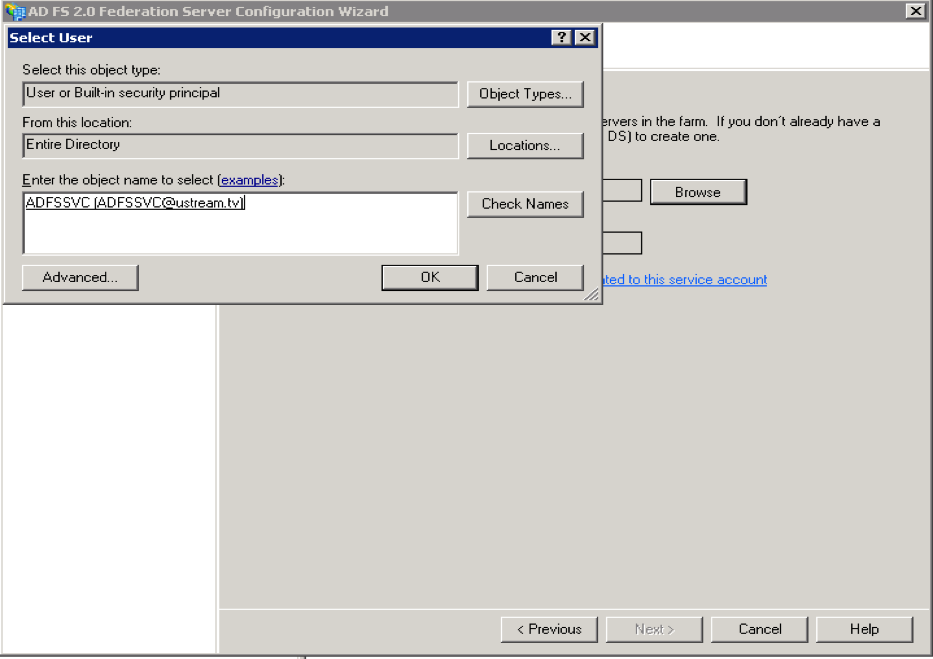 Check the configuration summary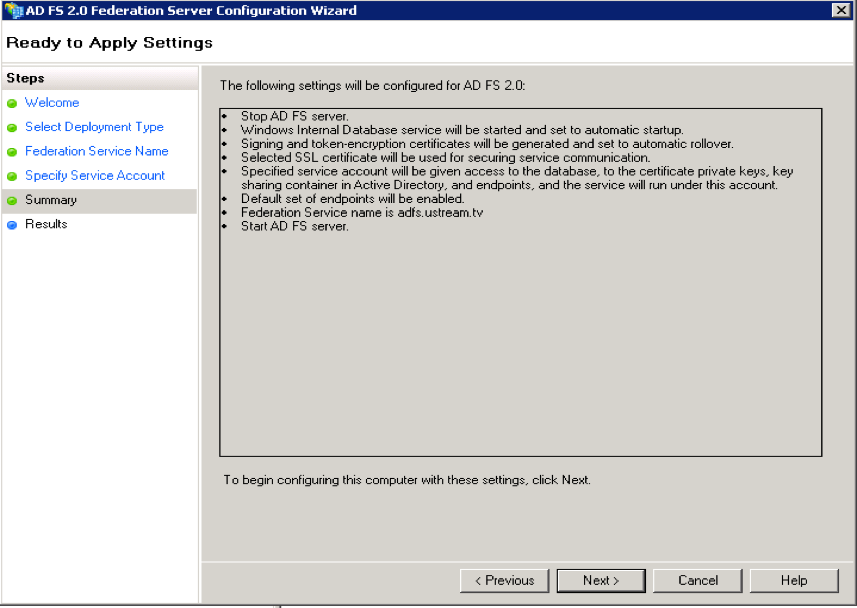 If all goes well you get a report with all successful configurations, but you may get the following error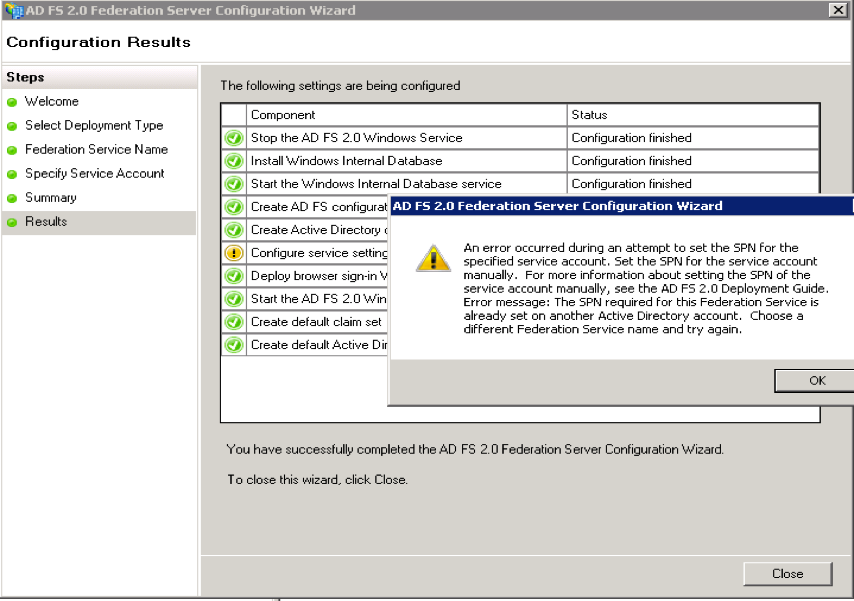 To solve this run the following command in the command line setspn -a host/localhost adfssvc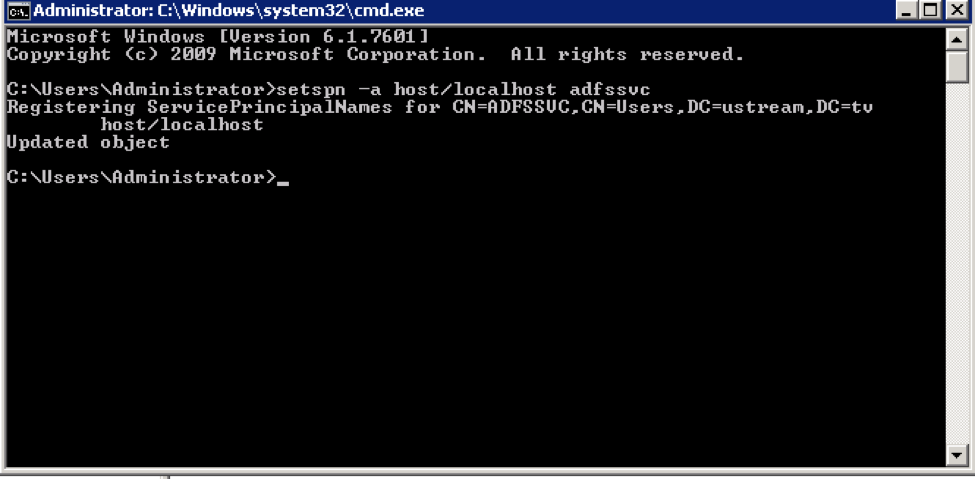 Add relying party trust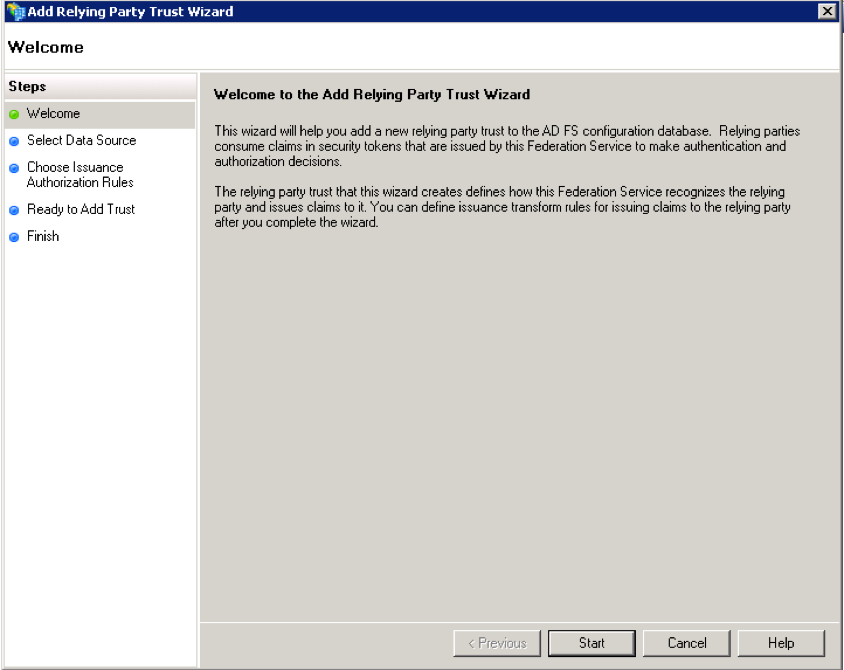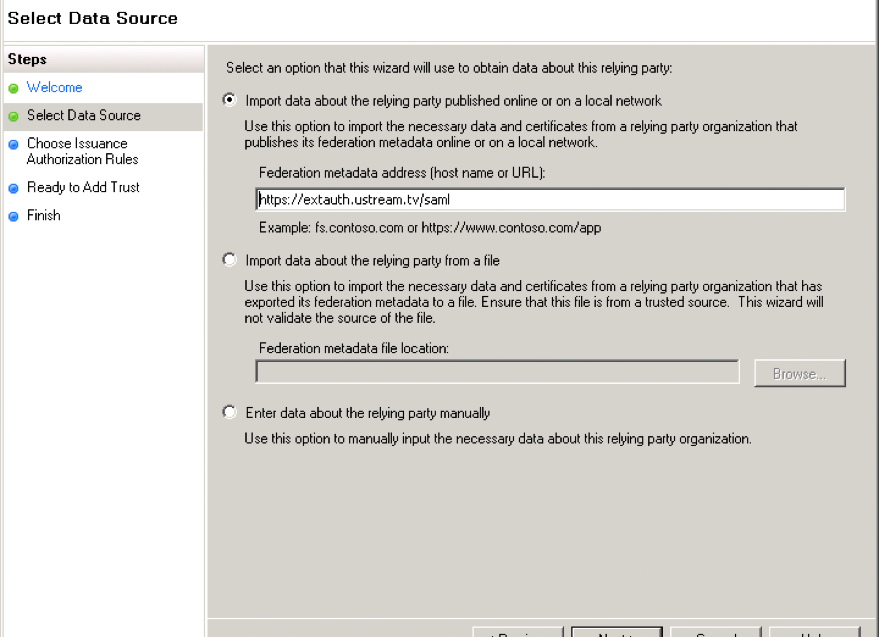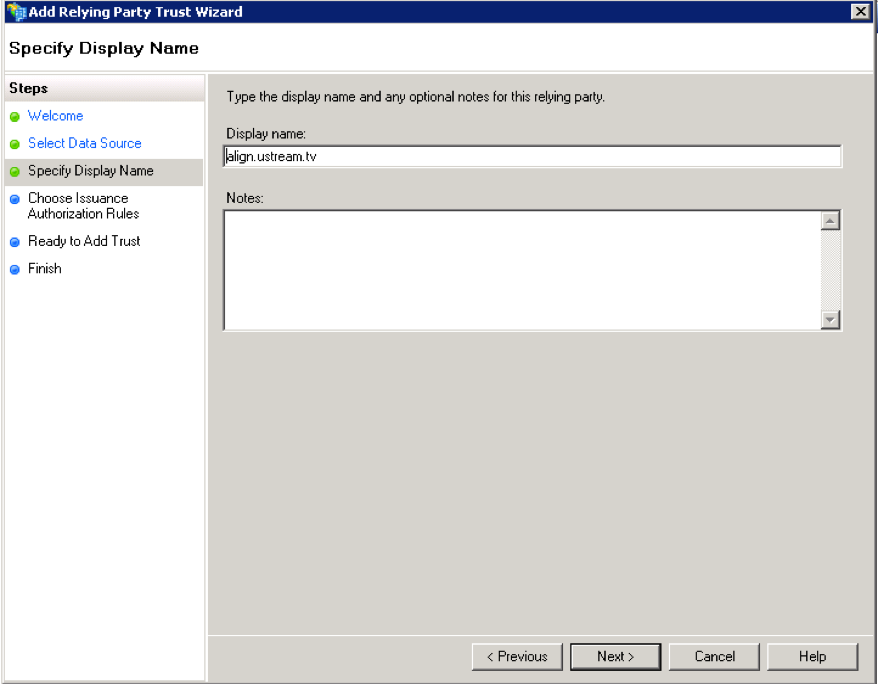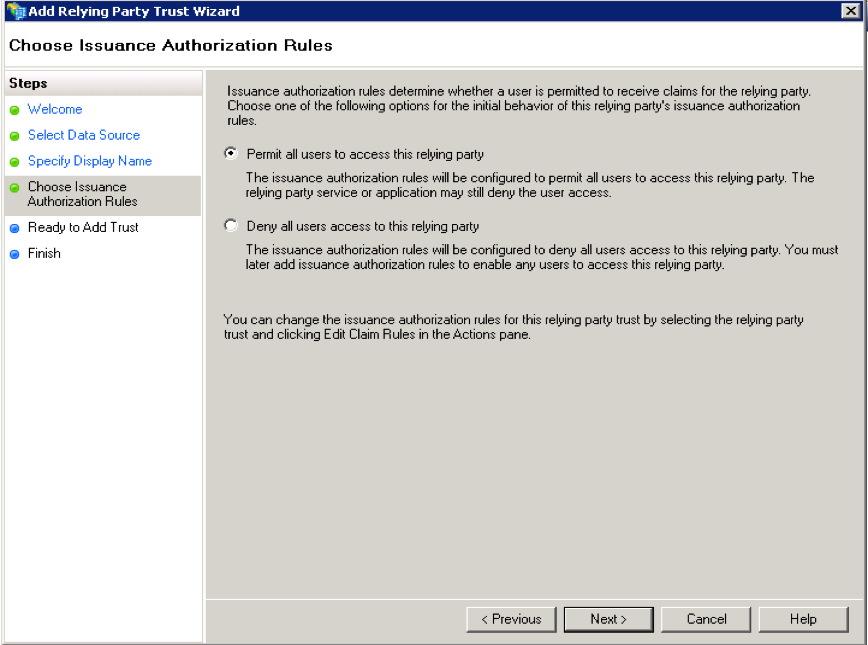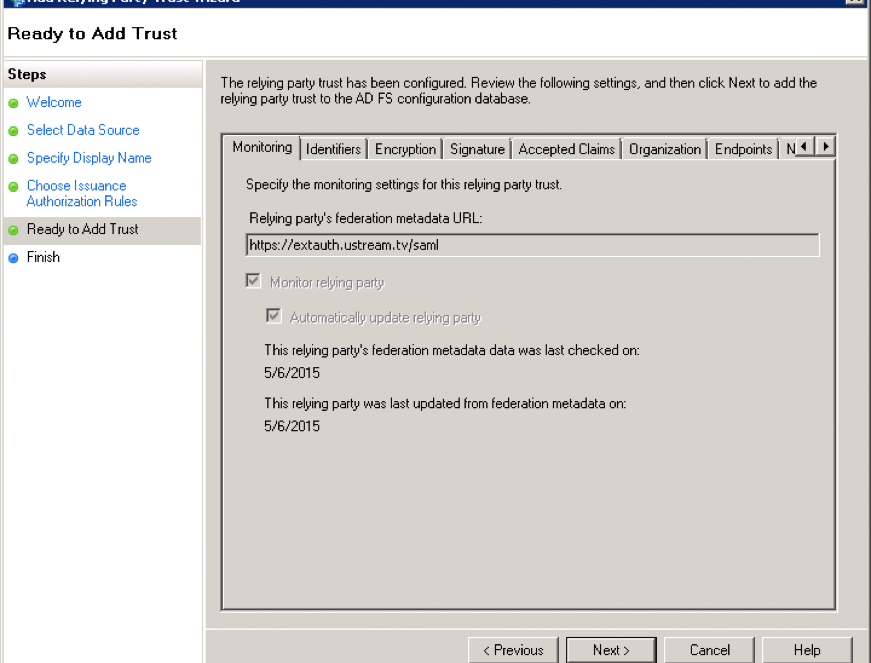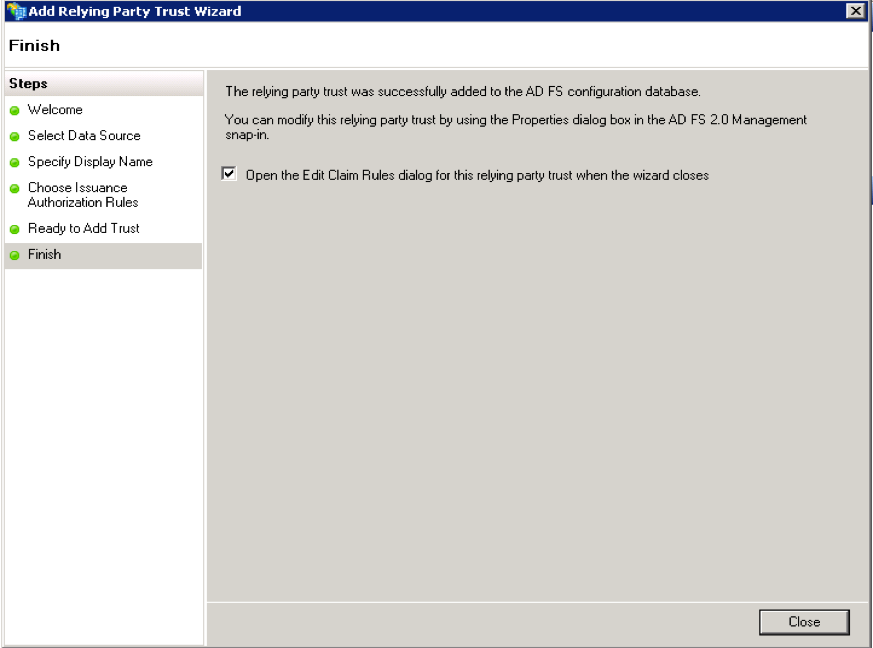 Configuring Claim Rules for the Relying Party
In these steps we're going to add the claim rules so that the elements Ustream Align requires and ADFS doesn't provide by default (e.g.: NameId) are added to the SAML authentication response. If you forgot to check the box to launch the claim rule dialog, right-click on the relying party (in this case align.ustream.tv) and then click Edit Claim Rules.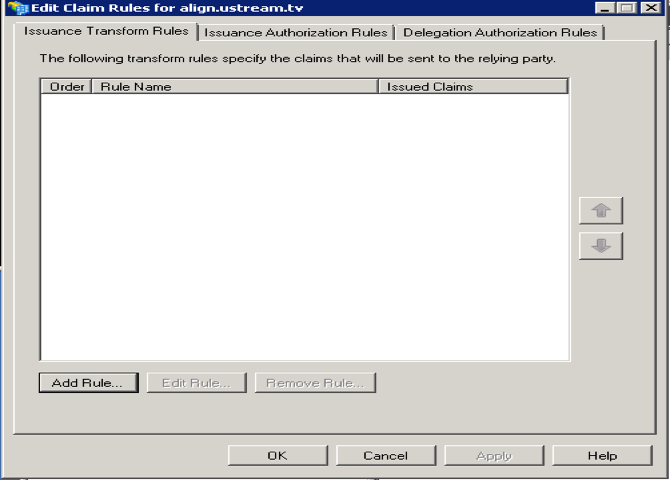 Click Add rule...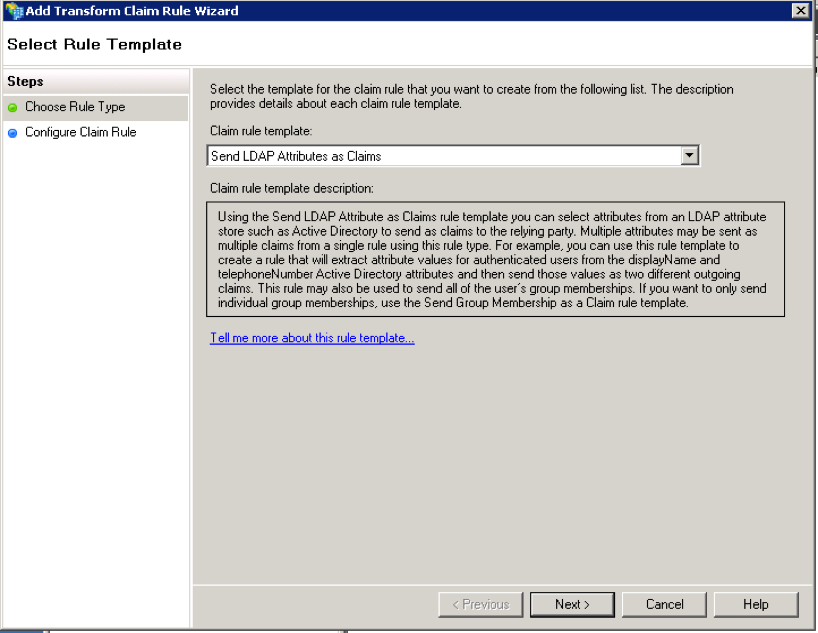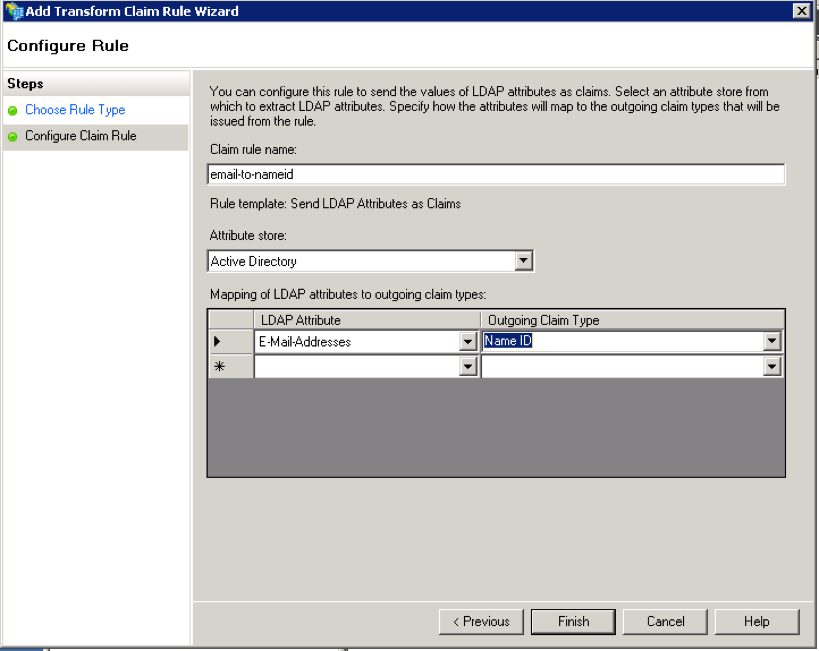 When new claim rule was added, the list should contain the new rule.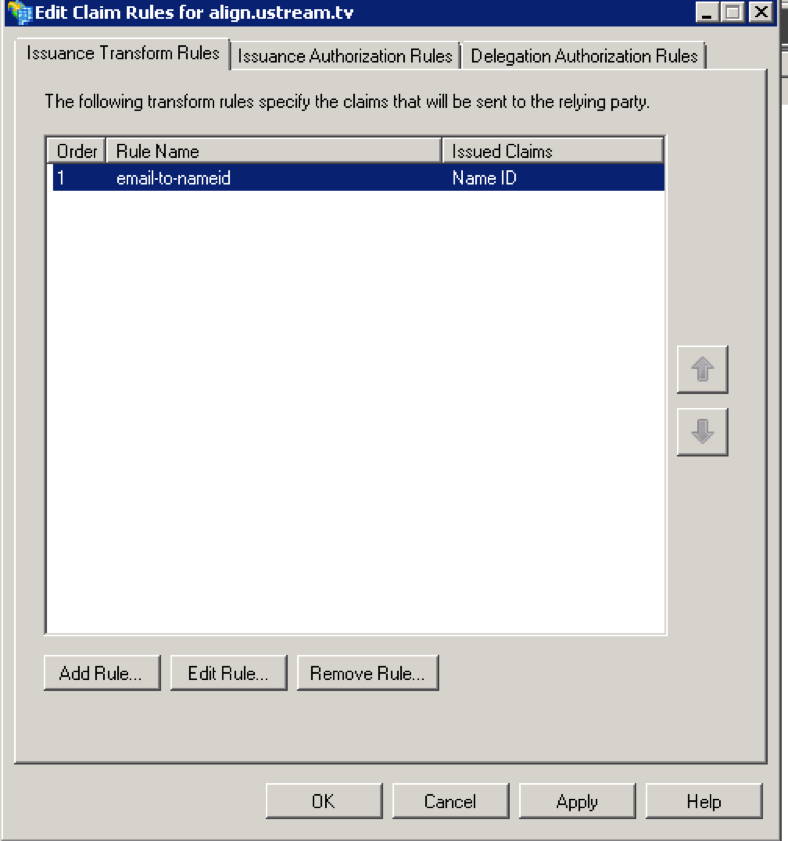 Adjusting some properties
Additional saml encryption is not needed when using https in a federation. To turn of saml encryption first you have to uncheck the "Automatically update relying party" checkbox on the relying party properties page.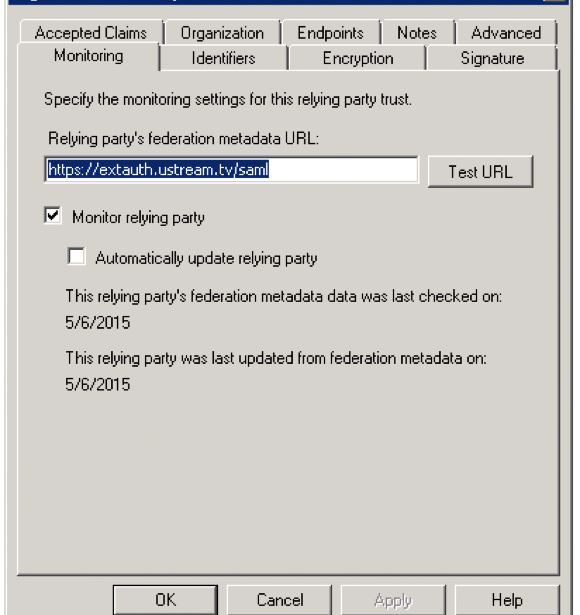 Then remove the encryption certificate from the Encryption tab by pushing the remove button.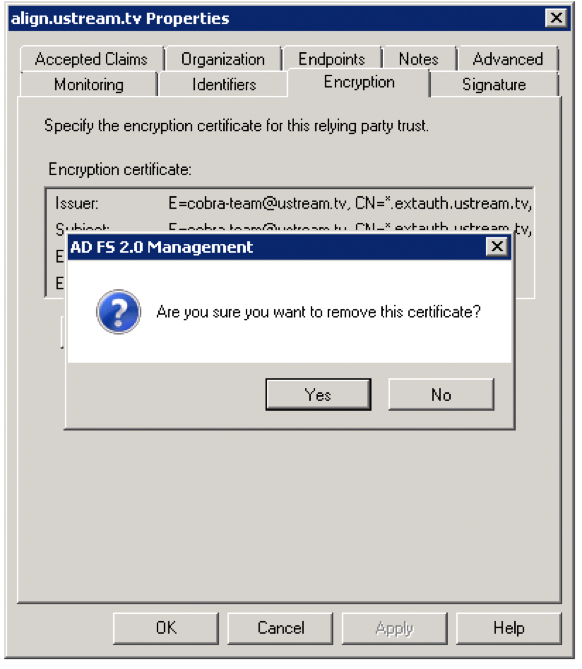 In the advanced tab change the hash algorithm from SHA-256 to SHA-1.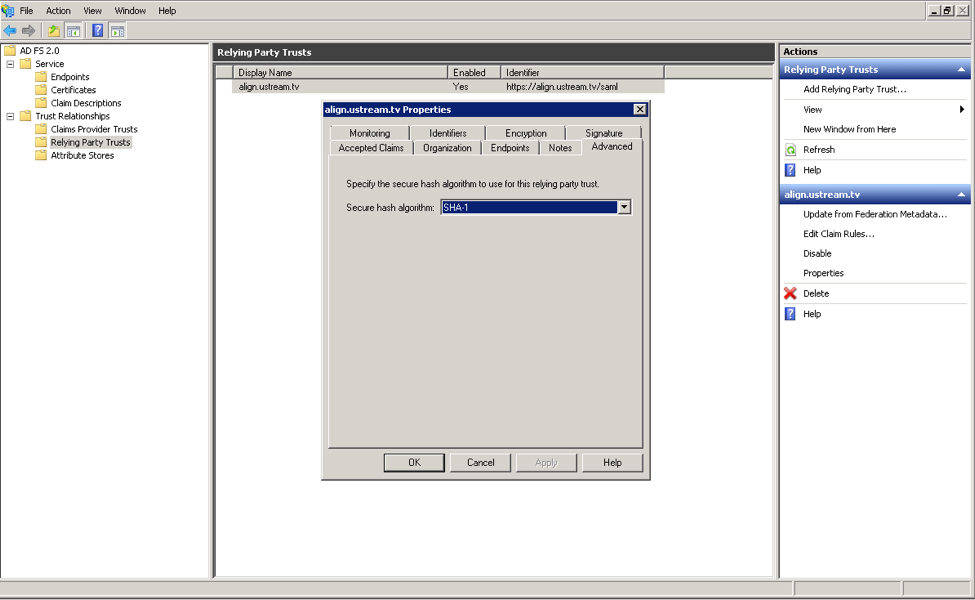 Configuring the Ustream Channel
Go to https://www.ustream.tv/dashboard/account/security
SP-Initiated Config
SSO type: Service Provider Initiated SSO
Entity ID for example: http://adfs.ustream.tv/adfs/services/trust (your ADFS entity id)
Certificate: certificate data from ADFS metadata xml
(https://adfs.ustream.tv/FederationMetadata/2007-06/FederationMetadata.xml)
Login URL for example: https://adfs.ustream.tv/adfs/ls/
Logout URL for example: https://adfs.ustream.tv/adfs/ls/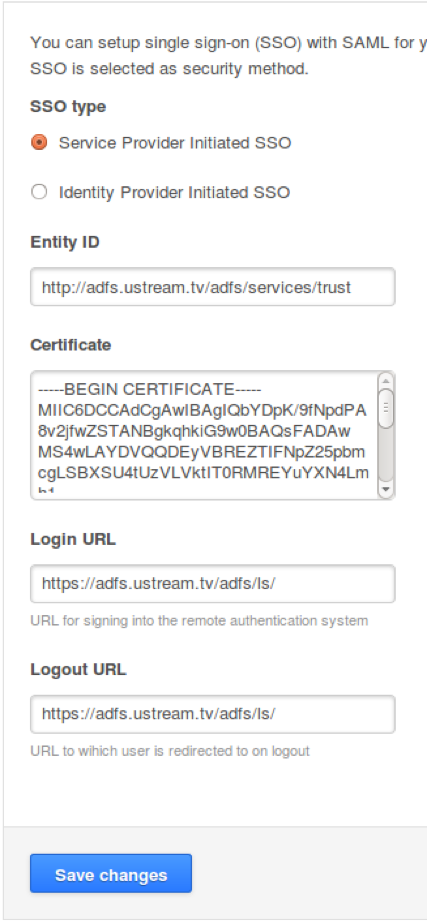 IdP-Initiated Config
SSO type: Identity Provider Initiated SSO
Entity ID for example: http://adfs.ustream.tv/adfs/services/trust (your ADFS entity id)
Certificate: certificate data from ADFS metadata xml
(https://adfs.ustream.tv/FederationMetadata/2007-06/FederationMetadata.xml)
Login URL for example: https://adfs.ustream.tv/adfs/ls/IdpInitiatedSignOn.aspx
Logout URL for example: https://adfs.ustream.tv/adfs/ls/?wa=wsignout1.0